News & Notices
eSET Readies for Testing in January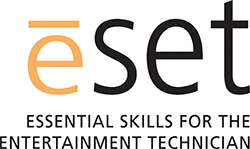 With the Essential Skills for the Entertainment Technician (eSET) program about to offers its first exams in January, USITT Executive Director David Grindle has been spreading the news about this new basic skills program.
Next month, USITT will offer the first online exams in rigging, electrics, and costuming. The first practical exams in these areas will be held at USITT 2016 March 16 to 19 in Salt Lake City. More will follow around the country.
Grindle wrote a column for PLASA's Protocol journal and had a piece on eSET published in Technologies for Worship Magazine.
The eSET Council – Bill Price, Kim Scott, Bob Scales, and Carolyn Satter – as well as USITT Education and Training Coordinator Christine Troscher and the eSET working groups, have been working this year to launch a program that will have a long-term effect on the industry.
eSET is a new, younger sibling of a well-established and successful certification program: ETCP. While the Entertainment Technician Certification Program provides professional certification for entertainment riggers and technicians, eSET will define essential, fundamental skills across several other technical fields on an entry or basic level.
The goal of eSET is to give employers and supervisors confidence that someone who has an eSET certificate is familiar with basic skills and knowledge in an identified subject, like basic electronics or basic rigging.
USITT began by forming eSET working groups composed of people from the entertainment industry who hire entry level workers as well as people teaching these programs in academic institutions.
Already in place is an eSET glossary and mobile app with over 2,000 terms used in entertainment technology.
Those who pass both online and practical eSET exams will receive a certificate recognizing their grasp of the fundamental skills required to enter jobs needing those skill sets. This recognition will help measure students' preparation to enter specific jobs and fields, give academic partners a benchmark for measuring student success, and make stages, churches, and civic auditoriums safer.
Through eSET, the Institute will carry on its mission to provide continuing education and help those in the entertainment industry keep up with the latest technology and safety. Stay tuned for updates at www.usitt.org/eset.