News From David Grindle, USITT Executive Director
USITT's Supporting Cast: You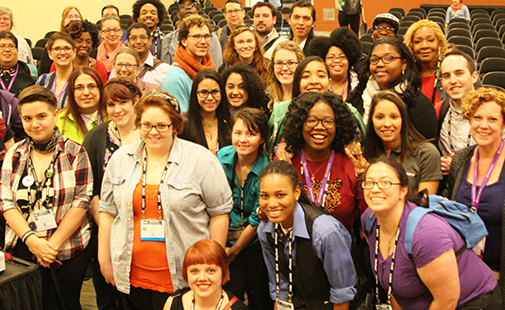 Humbug!
It's that time of year -- If you aren't producing Charles Dickens' A Christmas Carol, you know someone who is. Night after night theatres across America are filled with families that love the ghosts, the period clothing (I'm making an assumption, but it's likely a safe one), or the conversion of miserly Scrooge to the joyful giver.
If it isn't A Christmas Carol, it might be Tchaikovsky's Nutcracker. Candy canes dancing, mice and soldiers fighting, trees growing, and dance companies having enough cash to operate for a while longer. That's what the holidays bring.
As entertainment professionals, we live on these holiday shows. USITT has lots of photos and stories of these shows, but we don't produce one income-boosting show. Instead we have end-of-year Giving.
USITT is a 501(c)3 organization in the U.S. Tax Code. It means, just like theatre companies, monies given to USITT as gifts are fully tax deductible. That makes it a gift to USITT and a gift to the giver come April.
The Institute is lucky to be a strong, non-profit organization. Our leadership has placed us on firm footing, but we are also a "moving company" that's always doing something. Gifts to USITT allow us to do programming like USITT Presents around the country at costs that are affordable. Without our donors, we would never be able to offer $30 training events.
Individual membership dues remained unchanged for five years and only went up a few dollars this past year. Giving made that possible. We don't rely solely on membership dues to fund our programs. Our donors are supporting those programs and making the world better for everyone.
We have all sat through our share of curtain speeches asking patrons for donations. I suppose you are thinking I'm doing just that at this very moment. And I suppose I am. This time of year, we ask you to look at the difference USITT is making and to contribute towards that if you can. While big gifts are great, so are gifts of any amount. In fact, small gifts given monthly make a huge impact over time.
As we go through the end of the year, we have #Giving Tuesday on December 1, and we have online giving at any time. You can mail a check or call the office. Those who can make a gift make a better world for everyone.
Some people make their season budgets through popular seasonal productions. The USITT Annual Appeal holds that place. We are grateful to our members for their investment in membership. Your year-end gift is an investment that helps us bring affordable services closer to home for everyone.