News & Notices
2016 Distinguished Achiever in Lighting: Sonny Sonnenfeld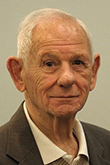 USITT Fellow and legendary lighting consultant Sonny Sonnenfeld will receive USITT's 2016 Distinguished Achievement Award in Lighting Design & Technology. Sonnenfeld joins the ranks of four other backstage stars who are to be honored at USITT 2016 in Salt Lake City.
Sonnenfeld's career in lighting spans more than 60 years, since he joined the 92nd Street Y as technical director in 1940. After serving in the Army during World War II, he became New York City sales manager for Century Lighting – now Strand – for 16 years.
He went on to become a consultant for architectural and theatre lighting, working for ETC and City Theatrical, and founded the Broadway Lighting Master Classes, a four-day lighting seminar, with his friend Jules Fisher.
He taught architectural lighting at the Pratt Institute and founded the New York Area Regional Section of USITT. He is a past president of the Illuminating Engineering Society's New York Chapter and has authored many articles on lighting design.
He has been involved in USITT since "the beginning" in 1960, and called the Institute "my continuing education program." He was inducted as a Fellow in 1997.
Read a story about Sonnenfeld from Architectural Lighting magazine's Hall of Fame series here »
Four other 2016 USITT Distinguished Achievers were announced earlier this year: Sound Designer John Leonard, Scene Designer Anna Louizos, Costume Designer Joy Spanabel Emery, and Safety & Health Educator Monona Rossol.
All will be honored with special sessions on their work in Salt Lake City, and will participate in the popular panel, "USITT Distinguished Achievers in Conversation" on Friday morning, March 18.