News From
Regional Sections
Southwest: January Symposium to be Largest Yet
The USITT Southwest Regional Section is gearing up for its largest Symposium Jan. 15 to 17 with 40 sessions in the works, the annual Student Design/Tech/Management Competition, six seasoned responders, two keynote speakers, and, hopefully, a record breaking attendance in Arlington, Texas.
The tentative schedule, hotel info, and registration are available at southwest.usitt.org. Early registration ends Dec. 26.
The Symposium will be held at the University of Texas at Arlington. Student Design/Technology/Management Competition guidelines are available here!
The Section is accepting workshop proposals. Please email Michelle Harvey at harveymd@uta.edu.
Nominations for Directors-At-Large for Positions 1 and 3, Student Positions 5 and 6, VP for Development, and Treasurer-Elect will be accepted during the Symposium.
Need to renew your membership? Visit the membership page.
Midwest: Meet Features LEDs, Projection, Media Servers
Midwest Regional Section member MainStage Theatrical Supply and Project Manager David Krajec hosted three sessions in the Milwaukee office Nov. 7.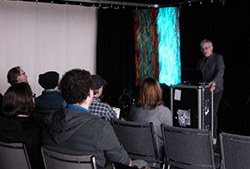 Tom Littrell, who works in outreach and training for ETC, presented "Layers of Light," discussing how to use LED-powered lighting fixtures as tools for stage, studio, and architectural lighting. He discussed the newest LED emitters and their contribution to LED use in stage lighting, as well as dimming and other control aspects of LEDs.
"Projections and Projectors" presented an overview of the current projection equipment available and how it can best be put to use. This session was presented by Nate Castillo of Professional Audio Designs.
There was great interest in a future session on video manipulation software.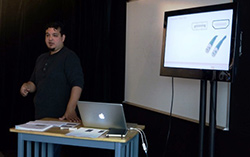 The third session of the day featured LED Video Walls and things to consider such as pitch, pixel density, and nits (brightness). The presenter was Rich Anders, national sales manager for MegaSystems.
John Boesche, chair of digital media for live performance at the University of Illinois Urbana-Champaign, said, "This was a terrific session. Lots of great information and insight from our three presenters, but the best part of the event was the networking with students plus young and more established peers. Presenters and peers were all very willing to share contacts."