News & Notices
LD Stephen Moss to Receive 2016 Rising Star Award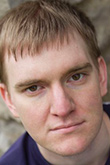 Lighting designer and technician Stephen Moss of Nashville, Tenn., is the winner of USITT's 2016 Rising Star Award sponsored by LDI/Live Design.
Moss, whose lighting design has been called "exceedingly evocative and artful," is the resident lighting designer for Studio Tenn Theatre Company in Nashville. He also works as a freelance lighting designer and concert lighting technician.
Moss graduated from Lipscomb University in Nashville with his BA in technical theatre in 2011. That year, he was nominated for Broadway World Nashville's Best Lighting Design Award.
Studio Tenn Managing Director Jake Speck recommended Moss for the award. "He has been incredibly successful in creating and implementing some truly breathtaking designs, which have greatly enhanced our productions," Speck wrote of Moss. "His immense skill as a designer is matched by his quality of character and work ethic."
In a review of the Studio Tenn production of The Glass Menagerie, Broadway World Nashville theatre critic Jeffrey Ellis described "the particularly beautiful golden glow of Stephen Moss' expressive and evocative lighting."
Moss titled his portfolio "Painting with Light." He will receive his award at USITT 2016 in Salt Lake City in March.
These design photos are among those submitted with his nomination: