News & Notices
Mentees Discover What Makes USITT 'Tick'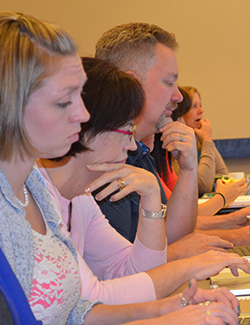 Curious about why USITT is so successful? Want to be privy to the inner workings of the Institute?
Then apply for the third round of the Board Fellowship/Mentorship Program. The deadline is April 28.
The program allows students and those new to the theatre professions to gain leadership training while being involved in the Institute's governance. Benefits and responsibilities of those selected to be mentees include:
access to the board information and privileges (board portal, sharepoint access, board documents) of USITT
participation in 3 electronic board meetings and two face-to-face board meetings
travel and accommodations to the Annual Retreat (2015) in Salt Lake City, Utah.
travel and accommodations to the Annual Conference & Stage Expo in Salt Lake City, March 2016.
one year's membership to USITT (July 1, 2015 - June 30, 2016). If you are already a member at the time of selection, your membership will be extended by a year.
The total estimated value of the board mentorship package is $3,000 to $3,500 per person. Two applicants are chosen each year.
Is it worth it? Find out what current mentees Debra Sherrer and Mary Jean Sedlock (as well as former mentee Pinky Estell) say about the program.