News & Notices
Meet Board Mentees Debra Sherrer, Mary Jean Sedlock
USITT welcomes two new Board Mentees to spend a year serving with and learning from the Institute's 32-member volunteer Board of Directors.
Debra Sherrer and Mary Jean "MJ" Sedlock came aboard as mentees in July. The Board Mentorship program was launched last year with its first mentee, Pinky Estell, completing his term in June.
Mentees serve on a board committee or project and as non-voting board members. They also receive a one-year membership and free registration, travel, and hotel costs for the Annual Conference & Stage Expo.
The new mentees said they are excited to participate on USITT's talented and dedicated board.
"It's easy to find case study after case study of boards who get it wrong, and it will be nice to spend some time with a board that does so many things right," Deb Sherrer said.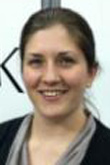 Ms. Sherrer recently received her master of arts management from Carnegie Mellon University. She earned her BFA in theatre arts/stage management from Point Park University in 2012.
Her management experience includes a stint as marketing manager for the CMU School of Music, reorganizing the ticketing process as assistant box office manager at the Maine State Music Theatre, and an administrative internship with the Pittsburgh Public Theatre.
She shed light on the use of social media in theatres this year with a study of "To Tweet Seat or Not to Tweet Seat" CMU School of Music performances. Read her articles here. She has joined the Finance Committee and looks forward to "seeing the annual planning cycle from beginning to end."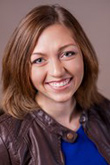 Ms. Sedlock is a 2015 MFA candidate in scenic technology at the University of Illinois at Urbana-Champaign. She graduated from Illinois State University in 2011 with a BA in theatrical design and production.
She wants to work in arts management while continuing her lifelong volunteerism for non-profits. Her work experience includes assistant production manager for the Illinois Shakespeare Festival and technical director for many college productions. She spent the past summer as production manager for the Theatre at Monmouth in Maine.
Her volunteer experience includes Little League coach, Habitat for Humanity carpenter, and Alzheimer's patient companion. She said she hopes to one day serve on USITT's Board as a voting member. For now, she's delighted to serve on the Awards and Recognitions Committee.
"We are a small and closely-knit industry," she said. "I think there is great importance in how we choose to honor those who are examples of excellence within it."
Meanwhile, Pinky Estell said his year as a mentee inspired him to become active in his regional chapter and help his undergraduate school set up a new student chapter. "The more you are involved with USITT, the more you discover the value and enjoyment of what it has to offer," he said.