News From
Around the Institute
USITT Board Gets Honorable Mention in Prudential Awards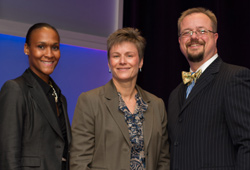 USITT received one of two Honorable Mentions in the 2014 Prudential Leadership Awards for Exceptional Nonprofit Boards.
The awards, given by BoardSource, the national association for nonprofit boards, recognized three exceptional boards for 2014. USITT and the Society for Neuroscience both won Honorable Mentions and will each receive a $3,000 prize. The Atlanta Master Chorale won the $15,000 grand prize.
USITT President Lea Asbell-Swanger and Executive Director David Grindle attended the BoardSource Leadership Forum, where the awards were presented, October 9 and 10 in Washington, D.C.
Walling Named OISTAT PCC Chair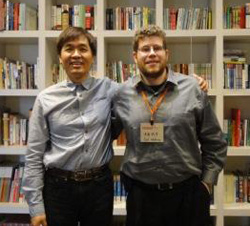 Congratulations to Carl Walling of USITT who was elected as the new chair of OISTAT's Publication & Communications Commission.
The elections were part of the 2014 Publication & Communication Commission meeting held at the International symposium Cultural Landmark & Its Communities October 7 in Taipei. The Commission thanked Austin Wang for his leadership for the past four years, and congratulated its new leader.
There's an App for Theatre Term Translation
Need a technical theatre term translated to a different language? Use Digital Theatre Words On-the-Go. Digital Theatre Words (DTW) is available on App Store and Google Play Market. Own this 24-language theatre dictionary for as low as $4.99. A must-have tool for international touring, it can be downloaded to a phone at goo.gl/8Yh9dx.
TCG to Distribute Chance Magazine
Theatre Communications Group (TCG) is now the distributor of Chance Magazine, a photography magazine that looks at the world through the lens of theatre and design.
The team at Chance produces an original photo shoot of nearly every production it covers and believes that a more thorough glimpse into the world of design can change the way people think and write about the theatre and the artists who create for it. A place to engage with the aesthetics of design in detail, Chance integrates all of the arts, material and nonmaterial, into a single space that expands on the desire for a more provocative and stimulating engagement with design.
Chance 3, Couture|Stage is now on sale through the TCG Bookstore on www.tcg.org. It includes photos from the work of Eiko Ishioka, Rudolf Nureyev, Simon Doonan, Ming Cho Lee, and Mark Wendland. It looks at the career of Kenneth Collins of Temporary Distortion, while Charles Renfro provides fresh insights into DSR's redesign of Lincoln Center. From the downtown scene, C3 has performance shoots of Company XIV and The Mad Ones.