News & Notices
Announcements
LiNK to 45 Grad Schools
Deadline is November 3 to register for LiNK, the new program from SETC and USITT which connects those interested in theatre graduate programs and schools which offer them. Meet one-on-one with schools for acting, directing, stage management, arts management, scene design, costume design,
lighting design, sound design, technical direction, stage technology, lighting Technology and costume technology.
Register for the event which has Focal Press as a Platinum sponsor.
Prospective students can apply online, upload resumes before the event, and then concentrate on finding their correct fit for grad school November 14 and 15 in Atlanta. Hotel costs at the Hilton Airport hotel are only $94 a night.
Fellowship Deadline November 17
Because the new deadline for USITT Fellowship support falls on a weekend, the deadline for applications has been extended to 5 p.m. Monday, November 17.
Fellowships are given to activities related to advancing performing arts design and technology. For criteria on eligibility or to apply, visit www.usitt.org/fellowships.
2015 Balloting to Open
Voting for candidates in the 2015 USITT elections will be open to all members in good standing as of noon, October 24.
All those eligible to vote will be sent an e-mail with instructions and a link to the online ballot.
Any member who does not receive an e-mail or needs a paper ballot should contact Shannan Hoerger in the National Office at 800-938-7488 or shannan@usitt.org.
Tenure Promotion Guidelines Revised, Available Online
USITT's Tenure & Promotions Guidelines have been revised and are now available as a free download online, part of a library of documents the Institute has created or maintains.
The newest iteration of the guidelines was adopted by the Board of Directors at its August meeting.
College Green Theatre Prize Deadline March 1
The Broadway Green Alliance (BGA) has launched a new prize for College Green Captains to reward their efforts on campus productions. The prize was highlighted in the October issue of Sightlines.
Individual or team applicants should submit a one-page summary statement and an 18-by-24 inch PDF poster that highlights the best of their greening program; additional materials may be a video of up to five minutes or a document of up to 10 pages of images, charts, and text. Winners will have integrated greening and energy-efficient methods into campus productions including design, construction, run, strike, and front-of-house.
Posters of finalists will be displayed at the BGA booth at Stage Expo in Cincinnati, and the winning team will be announced during a BGA session at the Conference.
Entries are due by March 1 and can be sent to green@broadway.org. All prize applicants must be College Green Captains. Students or faculty/staff members interested in helping green their theatre department are encouraged to volunteer as a College Green Captain and to sign up at BroadwayGreen.com/college-green-captains.
Weltenbauer Awards to Debut at Stage|Set|Scenery 2015
Taking as its slogan Wir sind Weltenbauer (we build the world), Deutsche Theatertechnische Gesellschaft (DTHG) launched the Weltenbauer Awards which will be presented June 9 at Stage|Set|Scenery, the international trade fair for theatre, film, media, and event technology.
DTHG intends to honor innovative and original stage technology solutions that have helped realize the artistic concept of a theatre or show production in a particularly impressive way. By creating the Weltenbauer Awards, DTHG has reaffirmed its goal to strengthen cooperation between technology providers, users, and artists.
Stage|Set|Scenery will take place on the Berlin Exhibition Grounds June 9 to 11.
Any theatre, musical, show, TV, or event production that developed or employed stage technology solutions can compete. Applications must be submitted no later than February 28. The awards will be given to productions of live events that took place in 2014 or 2015. More information and the application form are available at www.wir-sind-weltenbauer.de.
Behind the Scenes UK Kick Started at PLASA 2014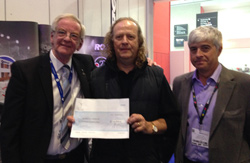 The industry stepped up at PLASA 2014 to care for its own by supporting Behind the Scenes UK.
Fundraising kicked off at the Knights of Illumination Awards Ceremony when Clay Paky's Commercial Director Pio Nahum presented a check to lighting designer Rick Fisher for Behind the Scenes UK. One of the last things the late Pasquale Quadri approved was this contribution to the new charity.
On Monday afternoon, ETC's Fred Foster presented the check from the proceeds of the iRFR app. Tuesday saw Rosco's Mark Engel present a check for the proceeds from the sale of Roscolux Light Relief Yellow.
At the PLASA Innovation Awards Ceremony, the BTS UK Trustees Chair John Simpson of White Light announced the charity and explained who will be eligible for grants. He was joined by Alan Jacobi who delighted the crowd by presenting a very generous check from Unusual Rigging. These contributions brought in almost £40,000 for Behind the Scenes.
Throughout the four-day show, the Behind the Scenes stand was busy selling raffle tickets while BTS UK Trustees were out on the floor selling them. PLASA Governing Body Chair Ed Pagett drew the winning tickets. Third prize of a £500 voucher with Mr. and Mrs. Smith hotels went to Amber Etra of Philips. Second prize of a £1,000 Amazon gift card went to Phil Hurley of Stage Sound Services Ltd. in Cardiff. The Grand Prize was won by Jerome Dunn of StageLight in Texas.
A race car simulator, provided by 5 Star Cases, was kept busy throughout the show with everyone from students to septuagenarians. The prize for the fastest lap went to Dan Abbitt, and Ashley Simper came in just behind to win the second prize.
Special thanks to PLASA; Mike Hamilton and TMB; Keith Sykes, Bryan Hoyer, and 5 Star Cases; Scott Hoyt; and White Light for all their assistance.
For more information about Behind the Scenes visit www.behindthescenescharity.org or e-mail ukinfo@behindthescenescharity.org.
FCC Expands Rules to Include Wireless Microphones
The Federal Communications Commission (FCC) is changing the Low Power Auxiliary Station license eligibility rules to include professional sound companies and operators of large venues that routinely use 50 or more wireless microphones, where the use of wireless microphones is an integral part of the major productions or events they host.
The effective date of this change was August 13, except for § 74.832, which requires approval by the Office of Management and Budget (OMB). That part is crucial because it is the part that actually enacts the licensing procedure. Normally OMB approval takes about 150 days. The application was filed in mid-August, so the licensing should be in effect in mid-January. When licensing is implemented, microphone users and large venue operators are strongly encouraged to use the online Universal Licensing System.
Bill Stafford of the FCC's Wireless Telecommunications Bureau, the contact person, strongly recommends that wireless microphone users check spectrum availability and registering unlicensed devices with one of the online white space databases, The Google database registration is here. Spectrum Bridge offers similar services.