News & Notices
Harrington Named Distinguished Achiever in Education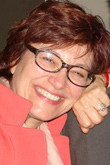 Wendall Harrington is known as a projection designer first and an educator second. But as one of the first projection designers in New York, she had to educate to succeed.
"I had to teach everyone how to work with me and for me," she said. "The director David Warren used to call it 'Scuola di Wendall.'" Since 2009, she has taught at Yale School of Drama, heading the nation's first MFA program in projection design.
Ms. Harrington will be honored with USITT's Distinguished Achievement Award in Education at the 2015 Conference & Stage Expo in Cincinnati, Ohio.
"Wendall has been the nation's leading projection designer for more than three decades," Yale School of Drama Dean James Bundy wrote. "She has kindly shared her passion for the art form, and for the intelligent use of projections within it, with generations of colleagues and students."
Her projection talents wowed the theatre world in her first Broadway show, They're Playing Our Song in 1979, and cast her as "the godmother of projections." She is most famous for The Who's Tommy (1993), for which she scoured London archives for black and white photos of landscapes and neighborhoods, "then broke the images apart and computer colored them to sing with the costumes," she said.
Over the years, she honed projection design as an art form in dozens of Broadway, Off-Broadway, ballet, and concert productions – all while running Scuola di Wendall. Her former assistants include Sage Carter, Michael Clark, Elaine McCarthy, and Hope Hall, now President Obama's official videographer.
Ms. Harringtron said she is "a little embarrassed" to be getting the education prize. "The fact is, I never finished college, so it amazes me completely that I teach at Yale, and then this!"
A born artist, she grew up in Queens with a view of "the tippy top of the Empire State Building," she said. "I had to get there."
She credits her dad with giving her "tools – a camera, clay, chalk – and I would draw in the street with chalk for hours. I often think about those giant images on black, just like projection and nearly as ephemeral."
She left home at 16 in the late '60s, studied art history at Hunter College, got into the downtown filmmaking scene, and "knew a good bit of the Warhol crowd."
A scarcity of film work for women led her to advertising, where her mentors included lighting designer Jean Rosenthal's assistant, Bill Batchelder. "It was Bill who put me in touch with Tharon Musser, who needed some slides made … and the rest, as they say, is history."
While previous scene and lighting designers had used projection to enhance their work, Ms. Harrington was the first to embrace projection design as its own discipline. Her ideas often start with "the Masters" and evolve with her and the director's vision. For this year's Weather at the Met, she sent visual artist Ruppert Bohle to photograph Denmark in all seasons; for City Ballet's recent Pictures at an Exhibition, "we took the Color Study by Kandinsy and broke it apart brush stroke by brush stroke and recombined it in different ways."
Her elevation of the field led Dean Bundy to hire her at Yale, where she shares her approach with designers and educators of the future.
For her, it's still all about making art. "As a designer, it is essential to use a wide range of images, to go deep," she said. "I'm hoping to make what nobody else has seen; to create an entirely new idea of image or to tickle the unconscious with something you think you already know."