News From
Sustaining Members
RC4 Wireless: Magic Series 3 Wins PLASA Innovation Award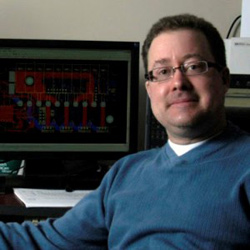 In a feat of unparalleled engineering wizardry, RC4 Wireless has packed the past, present, and future of wireless entertainment lighting into a palm-sized capsule.
Award for Innovation judges at PLASA London 2014 were astonished, some revisiting the Innovation Gallery and RC4 stand several times to be sure they hadn't fallen prey to sorcery. But as Sean Dane, application specialist at RC4, demonstrated each new RC4 Series 3 Harmonized Design feature in turn, spectators were awed.
The DMX4dim Series 3 four-channel dimmer uses clever technologies to pack a variety of useful features in a tiny package. It maintains its price point from the previous system but adds more features. The lifetime warranty seals the deal.
New RC4Magic Series 3 wireless devices offer a startlingly comprehensive feature set in packages that are dangerously easy to lose in the laundry, between car seats, or in sidewalk cracks and crevices.
TMB: Solaris LED Mozarts Shine on Beyoncé Jay Z On the Run Special
In only the second use at a major concert event, 110 Solaris LED Mozart fixtures, provided by TMB, ringed the balcony rail of the Stade de France in Paris for the Beyoncé Jay Z On the Run HBO Concert Special. The Mozarts were chosen specifically to enhance the TV shoot featuring the tour's closing dates, and stood out brightly amidst over 80,000 fans.
"The Mozart is the perfect eye candy fixture and this was an ideal application for them – they really showed off the depth of the stadium and did a great job on camera," said Cory FitzGerald, the tour's lighting director. Lighting was co-designed by Roy Bennett.

TMB is exclusive worldwide distributor of the Solaris LED Mozart: www.tmb.com/products/solaris/mozart. Learn about more innovative and exciting products from TMB at www.tmb.com.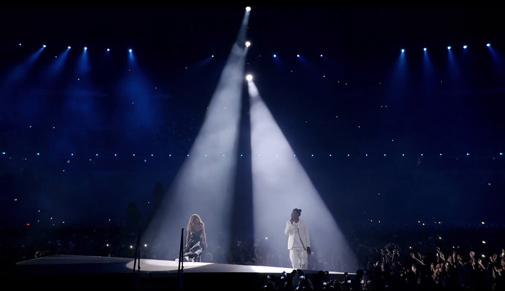 Alcons Audio: Enhances Dolby Atmos at JT Cinemas
One of the longest-established cinema chains in the Netherlands, JT Cinemas, has spent the last few years investing in new sites and upgrading its existing venues to offer Dutch audiences the best possible experience. Working closely with leading cinema solutions provider dcinex, JT has chosen Alcons Audio systems for the cutting edge Dolby Atmos installation at its Kerkrade site.

Alcons took 36 of its standard four inch pro-ribbon drivers, plus 12 of its six inch pro-ribbon drivers and mounted them in bespoke, custom designed surrounds, creating the CRS12 and CRS12/60GT units. These were complemented with five, three-way, tri-amped CR4 units and eight CB362 twin 18-inch subs to deliver a solution that was able to produce all of the required SPL, but from within normally-sized enclosures.

For more information visit: www.jt.nl, www.alconsaudio.com and www.digitalcinemaready.info.
Mega Systems Inc.: LED Backdrop Illuminates Church
Redemption World Outreach Church in Greensville, South Carolina, recently went through renovations to meet the needs of its rapidly growing congregation, including a backdrop from Mega Systems Inc.
The church broadcasts its services weekly and needed a backdrop that looks great in person and on television. The answer was the I-5 Dicolor LED Display.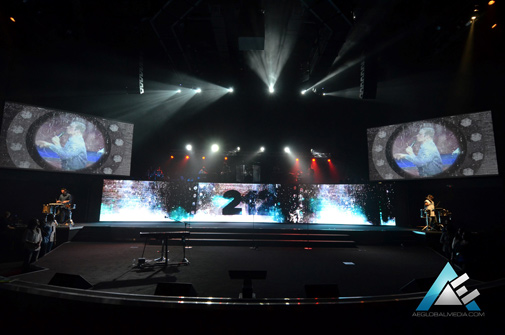 Theatre Projects: Expertise Aids Completion of Isabel Bader Centre for the Arts
On the shores of Lake Ontario, Queen's University's Isabel Bader Centre for the Arts — the newest addition to Canada's cultural landscape — recently opened its doors, marking the culmination of more than seven years of planning, design, and construction.
Theatre Projects collaborated with Snøhetta and N45 Architecture on the design of this 80,000-square-foot arts center that will provide Kingston, Ontario with a state-of-the-art teaching facility, a world-class showcase for student and professional musicians, and a breathtaking architectural addition to the university campus.
The $65 million center, which combines historic preservation and modern architecture, features a concert hall, flexible theatre, orchestra rehearsal room, film screening room, film production studio, classrooms, and a full suite of support spaces.
The centerpiece of the lakeside arts center is the 566-seat performance hall. Theatre Projects drove the design of the hall, which takes on the classic shoebox concert hall form, but with a smaller seat count, creating an extremely intimate and dynamic experience for the audience.
Staging Concepts: Unveils Bravado Acoustical Shells
The new, state-of-the-art, fully functioning Bravado Acoustical Shell System is now available and created to improve sound quality.
Bravado Shells create stunning acoustical environments with mobile towers and ceiling panels that align to form a resounding performance space. Its all-aluminum, lightweight construction combined with an easy-to-use wheeled mover makes transporting and storing towers a simple and efficient process.
Call the company at 800-337-5339 or visit stagingconcepts.com for more complete information.
Stagecraft Institute of Las Vegas: New Features for 2015
As a work in progress, the Stagecraft Institute of Las Vegas (SILV) always looks for new ways to challenge students and staff.
SILV 2015 is about new challenges. In addition to a continuing commitment with Vectorworks and ESP Vision to handle the teaching of the computer programming sessions, and there will be some dynamic new dimensions!
Brian Gale, Trevor Burk, Greg Bloxham, Jared LeClaire, and all of Team Brian are morphing the last two-week combo into three weeks. Weeks 7 and 8 are being expanded to become The Block (July 12 to August 1)with Media for Live Entertainment and concluding with Tech Showcase and Job Fair, Seal Exam, and strike.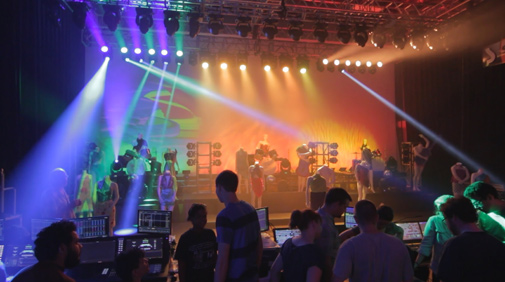 IATSE: Canadian Court Ends Labor Suit
On September 25, the Supreme Court of Canada dismissed Egg Films' appeal application and awarded costs to IATSE Local 849.
This represents a significant victory for workers in commercials, and certainly a big achievement for Local 849. In March of 2011, Local 849 certified Egg Films, the largest producer of commercials in Atlantic Canada. After two-and-a-half years, the Labour Board of Nova Scotia imposed a first collective agreement – the first time that first contract arbitration had ever been employed by the Board. A one-year contract was presented to IATSE Local 849 and Egg Films on September 19, 2013, and in the ensuing year, 10 commercials have been shot successfully under the agreement.
Local 849 looked forward to building a new and productive relationship with Egg Films for the benefit of both organizations, but Egg continued the appeal process through to its highest level, the Supreme Court of Canada. IATSE's International President Matthew D. Loeb stated, "This result has been a long time in coming, and should help to pave the way for additional organizing in the commercial industry in Canada."
Nemetschek Vectorworks: Acquires Software Provider Bluebeam
Nemetschek Vectorworks, Inc,'s parent company, Nemetschek AG, will acquire 100 percent of Bluebeam Software, Inc., headquartered in Pasadena, California.
Bluebeam is a leading provider of PDF-based workflow solutions for digital processes and collaboration in the architecture, engineering and construction (AEC) industry with more than 650,000 users worldwide. Its customers include more than 74 percent of the top U.S. companies in the construction industry, according to industry rankings by Engineering News-Record. The company estimates the use of Bluebeam solutions increases productivity by 60 percent, reduces the costs of paper and distribution by up to 85 percent, and leads to a reduction of schedules of 40 percent.
"Bluebeam is a perfect complement to our existing suite of design and BIM solutions for the architecture, entertainment and landscape marketplace," said Sean Flaherty, CEO of Nemetschek Vectorworks and member of the Executive Board of Nemetschek AG. "We're committed to open standards and the addition of a workflow solution. Using the PDF standard provides our users with another way to interoperate in today's complex design environment."
For more information, visit www.vectorworks.net.
GLP: Introduces Fixtures at London Show
GLP chose PLASA at London ExCeL to unveil two brand new fixtures which incorporate the award winning impression X4 optical system into a linear batten configuration.
Using high powered RGBW LEDs, the X4 Bar 20 features 20 sources over a 1 meter length, while the X4 Bar 10 has 10 sources over a 50cm length. Both battens feature a wide zoom range of 7 to 50 degrees, allowing for broad washes of color and narrow light curtain effects. The zoom is further enhanced by a motorized tilt function, allowing fast repositioning of the fixture and for dynamic sweeps of color.
Each LED can be controlled for color and intensity on both battens, and the physical design allows for placement across the two unit types while keeping consistent pixel spacing.