News & Notices
Announce New Wally Russell Mentor Award for 2015
A man who spent his lifetime mentoring will now be honored with an award recognizing a generous mentor in the theatre industry.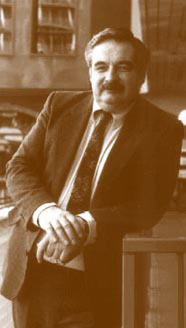 USITT and the Wally Russell Foundation have established the new Wally Russell Professional Mentor Award, to be given annually to an entertainment industry professional who has helped young colleagues get their start. Nominations deadline is December 15.
The Institute inherited the Wally Russell awards from the Russell foundation last year, and decided to honor his dedication to promoting young talent in the industry. The Wally Mentor Award offers an opportunity to recognize a mentor outside of academia who has guided young people in their careers.
"Almost everyone has someone who, when they entered the field, took them under their wing and provided guidance and mentoring," said Executive Director David Grindle. "That was Wally Russell for many people."
Mr. Russell was a Canadian lighting designer and technical director who founded the theatre technology department at the University of Toronto and served as general manager of the National Ballet. He received Canada's prestigious Centennial Medal for his role in designing Canada's National Arts Center in Ottawa.
He went on to serve as president of Strand Lighting USA and president of Theatre Projects Consultants North/South America. He was technical director of the Los Angeles Opera until his sudden death in 1992. The Wally Russell Foundation will continue to bestow the occasional Wally lifetime achievement award in addition to the annual Mentor award.
Nominators can submit up to four letters about each mentor, Mr. Grindle said. "It's especially nice if that person inspired you to pass that mentality along and mentor others."
Nominations are now open at www.usitt.org/wally.
The winner will be chosen by a six-member jury composed of three members of the Wally Russell Foundation and three from USITT. The recipient will be honored at Cincinnati 2015 Conference & Stage Expo. USITT will provide free registration to the Conference and the Wally Russell Foundation will provide travel and housing assistance for the honoree to attend.
For more information on the Wally Russell Foundation, visit www.wallyrussellfund.org.