Conference & Stage Expo
Stage Expo Growth Assists Attendees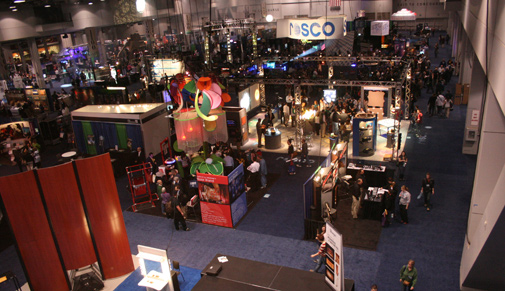 What happens when Stage Expo keeps growing?
It's a great problem to have, and USITT is staying ahead of demand for space at the Stage Expo by adding a new aisle to the show. The 2015 event is shaping up to be the largest yet, with 206 companies to date committed to the show at more than 34,000 square feet of exhibitor space. To put that in perspective; it's larger than the entire 2012 event in Long Beach, with five months to go.
For the past few years, USITT has actively promoted the Institute and Stage Expo at other events like the Audio Engineering Society Convention, Live Design International, and the International Association of Venue Manager's VenueConnect. The goal is to introduce USITT audiences where a natural cross over exists and to walk the floor and speak with exhibitors about Institute members and why USITT is a smart investment.
The Annual Conference & Stage Expo has become the inclusive event for other membership organizations and publications that have a natural "synergy." The equipment being used in a house of worship, for example, is the same equipment used on the theatrical stage. While the application is different, the skills and experience to manage and maintain this equipment is the same.
As a result, USITT is experiencing growth on the expo floor because of its strong push forward and the confidence behind it. Exhibiting companies are looking to meet members in attendance as well as new friends in the venue management industry, the house of worship market, and concert production.
Those in Las Vegas for LDI, can visit USITT's booth 1153.
New exhibitors and exhibitors returning to Stage Expo from long absences include: