News From
Contributing Members
Philips Vari-Lite: To Judge '1 on 1 with Vari-Lite' Video Contest
Philips Vari-Lite recently announced the "1 on 1 with Vari-Lite" video contest designed to challenge lighting designers, technicians, and fans worldwide to produce a one-minute video featuring one single Vari-Lite luminaire. Prizes include a paid trip to LDI or Prolight + Sound, GoPro cameras, and Vari-Lite swag packs. The winners will be selected by an independent panel of judges.
Judging will be based on overall video creativity and the use of a single Vari-Lite luminaire as the main subject matter.
Rose Brand: Rags to Riches Contest Deadline November 7
November 7 is the deadline enter Rose Brand's Rags to Riches video contest and possibly win a new main curtain worth up to $10,000.
The contest challenges theatres to create a short video (under one minute) explaining why their stage is most deserving of a new curtain. Videos will be featured on the Rose Brand Pinterest and Vimeo pages. The one with the best combination of creativity and entertainment (as judged by Rose Brand) along with likes, shares and organizational need will win a new main curtain worth up to $10,000 for their theatre.
Videos can be re-pinned and liked or shared on other social media sites for more exposure to potential voters. The video contest is open to U.S. organizations within the 48 contiguous states and District of Columbia. Interested candidates can visit bit.ly/rb-VideoContest to view a brief video featuring additional entry information and official contest rules.
Meyer Sound: Fills Theatre DeVille with Impressive Sound
To entertain each of its patrons with world-class sonic clarity, Theatre DeVille in Vacaville, California has installed a Meyer Sound JM-1P arrayable loudspeaker system. Occupying an 88-year-old building that was formerly a movie house and a church, the theatre is now transformed to what a guest described as "our jewel of the downtown."
"The JM-1P system really has exceeded all expectations," says Royce Farris, CEO of DeVille Enterprises, Inc., the venue's management firm. "There's not a bad seat for sound anywhere. I usually stand by the front door after the show, and I'm surprised by how many people stop, shake my hand, say how great it sounded, and tell me they'll be back again."
Designed and installed by One Way Media Solutions of Benicia, the system comprises 10 JM-1P loudspeakers, two 1100-LFC low-frequency control elements, and two 600-HP subwoofers. Five UPJunior-XP VariO and two UPA-1P loudspeakers provide stage lip and balcony fill, respectively, while system drive and alignment is provided by a Galileo loudspeaker management system with one Galileo 616 processor. Artist foldback comprises eight UM-1P stage monitors, while an MJF-212A stage monitor and a USW-1P subwoofer are used for drum fill.
ETC: Unveils Daylight HD and Tungsten HD LED Arrays
ETC's Source Four LED Series 2 Lustr luminaire introduced an entirely new way of thinking about color and LED light. Now ETC has stepped up the quality of broadcast lighting by introducing two new Source Four LED Series 2 arrays, Daylight HD for variable cool (4000 to 6500K) light and Tungsten HD for adjustable warm (2700 to 4500K) light.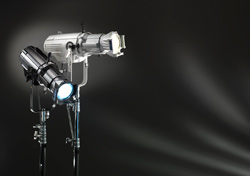 The Source Four LED Series 2 Daylight HD and Tungsten HD luminaires include special features that make them suitable for on-camera use. They operate flicker-free, even at high speeds, so they won't be noticeable while filming. And the luminaires work quietly and dim smoothly, so they won't disrupt the action on the set.
The luminaires have tint control, so designers can tweak the color, warming it up or cooling it down to perfectly illuminate individual skin tones. "When we reworked the mix of LED emitters in our white-light luminaires, we found it greatly improved the brightness," explains ETC Fixtures Product Manager Jim Uphoff. "The new Daylight HD and Tungsten HD arrays have a significantly higher lumen output than the original Source Four LED luminaires."
To learn more about the Source Four LED Series 2 and all of ETC's innovative fixtures, visit www.etcconnect.com.
TAIT, Stage Technologies: Move into New Las Vegas Home
TAIT and sister company Stage Technologies have completed their move into a new joint location on Las Vegas's Wynn Road.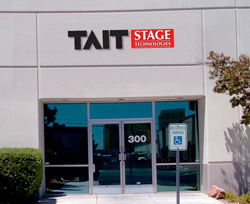 The new office, which includes 30,000 square feet of workshop space, seven loading docks, and a full ground-supported test stand, will accommodate work for West Coast theatre, casino, and theme park clients. In addition to functioning as TAIT's West Coast permanent installation hub, the site hosts operations, local show service and support, project management, and administration.
On-site staff from both organizations will be fully cross-trained in TAIT's Navigator system as well as the eChameleon software by Stage Technologies, bringing expanded expertise to the newly integrated team.
The new address is 5475 Wynn Road, Suite 300, Las Vegas, NV 89118. Phone inquiries for TAIT can be made to 702-251-0700, and to Stage Technologies at 702-798-3838. For more information, visit www.taittowers.com or www.stagetech.com.