News & Notices
Elite Training Sound Grad Lands Cirque Gig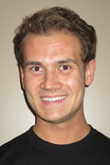 As a sound design student at Southern Utah University, Nicolas Pinegar dreamed of moving home to Las Vegas, Nevada to work for the world's largest theatrical producer, Cirque du Soleil. He graduated in May and two months later started as an audio technician for Criss Angel BeLIEve.
How did he grab his goal? With a little help from USITT.
Mr. Pinegar joined his school's student chapter the year it was founded, 2010, he said. As a junior, he attended the 2013 Annual Conference & Stage Expo in Milwaukee. He sought out the Cirque du Soleil booth and met Kim Scott, a Cirque manager who had helped found the Institute's Elite Training two years earlier.
A musician who plays piano and bassoon, Mr. Pinegar pursued theatre in high school and studied lighting, technical direction, and sound design in college. He told Ms. Scott he wanted to work in sound, and she told him to apply for the annual Elite Training weekend in May.
Elite Training is a tuition-free program at the Cirque du Soleil Training Center in Las Vegas, offering members hands-on training with industry leaders in sound, rigging, projection, automation, and – as of this year – stage management.
Mr. Pinegar applied for the sound training with Meyer Sound and was accepted into the 2013 class.
"We had four days of training with Meyer's latest system, but at night we would tour the different theatres and see how earlier versions of the same (D-Mitri) system are used during Cirque shows," he said.
Mr. Pinegar had won awards for his work on college productions, attended Nevada Thespians conferences and the Kennedy Center American College Theatre Festival, and worked two seasons at the Utah Shakespeare Festival. Nothing compared to the size and spectacle of a Cirque show, he said.
"It was really helpful and inspiring to see what a large-scale production can be," he said. "Shadowing at The Beatles LOVE, you are exposed to things you wouldn't experience in a regional theatre or your university. Even on Criss Angel BeLIEve, which is small for a Cirque show, you are handling $50,000 worth of microphones, which is so much more than the average production."
Elite Training also increased his networking abilities. At the Fort Worth 2014 Annual Conference & Stage Expo, he looked up Rob Lindsay, head of audio for The Beatles LOVE, whom he had met at Elite Training.
"I asked if I could talk to him about an internship after the conference. He said, 'Don't wait for an internship. Just come and interview with me here for a full-time position.' So I had a job interview with Cirque du Soleil on the Stage Expo floor!"
Besides The Beatles LOVE, he interviewed with KĀ and BeLIEve – and got an offer from BeLIEve two weeks later, he said.
Right now, he's an on-call technician working on a small team handling in-monitor audio for two shows a night, two to five nights a week. He hopes to be hired full-time down the road.
"Right now, I am just thrilled to be working for Cirque and grateful to have this opportunity right out of college," he said. "It's absolutely a joy to go to work."
He thanks USITT for helping him get there. "Just the conference alone," he said. "Just going to the sessions that Cirque held, and the insights you get from one-on-one conversations after, is huge. And then to be able to attend Elite Training … it's just a great opportunity for young technicians and their careers."
Elite Training applications will open in February. Stay tuned to www.usitt.org for updates.