Conference & Stage Expo
PDWs Offer Range of Experiences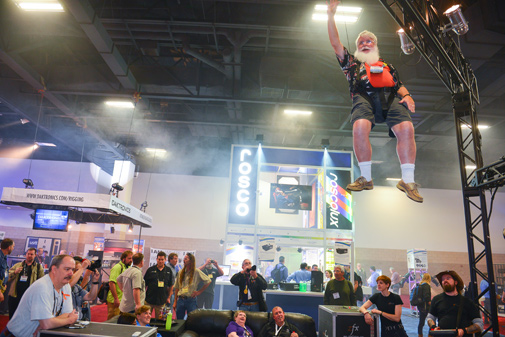 Be one of the first to register for exciting Professional Development Workshops scheduled on Monday, March 16 and Tuesday March 17 prior to the Cincinnati 2015 Annual Conference & Stage Expo.
On Monday, from 9 a.m. to 6 p.m., the Technical Production Commission is sponsoring Get Your Feet Off the Ground: Fundamentals of Flying Effects for Live Theatre. Stirling Shelton, chair, with presenters Emily Ballous and Brian Owens, will have answers to questions concerning flying in any production. The workshop is designed to help directors and technical directors of smaller houses and programs learn the fundaments of flying vocabulary to effectively integrate flying effects into productions and make sure the flying experience will be safe and rewarding for everyone involved. Topics include finding, contacting and working with vendors, negotiating administrative requirements; answering technical questions about space; making flying work with other design elements; casting flyers and choosing operators; and corny flying jokes and puns. Member price is $205, non-member price $245.
Firearm Training from Gun Range to Stage is a Regional offering 8 a.m. to 4 p.m. March 17. Certified Pistol Instructor Randolph Bueche will take participants through the program he developed with Steve Pauna called Safe Use of Stage Firearms. The workshop includes showing a variety of stage firearms, inert non-functioning props, functioning props, and blank firing guns. Blank firing guns will be fired to demonstrate inherent dangers with different models and noise levels.
There will be comparisons between live-fire firearms and stage/prop firearms with participants handling both types under supervision. Safe handling methods will be demonstrated and enforced. Another portion of the program allows participants to live-fire a variety of weapons including revolver, semi-automatic pistol, shotgun, and rifles. A range safety officer will oversee and instruct one shooter at a time with the live fire with at least one safety officer overseeing each firearm within bermed shoot bays at a firing range. The workshop will be held at the Talawanda Chapter of the Isaak Walton League shooting range, near Hueston Woods State Park. Transportation will be provided from the convention center. There will be a break for a box lunch included in cost of registration.
Architectural Tour of Cincinnati is a Regional workshop cosponsored with the Architecture Commission 10 a.m. to 4 p.m. on March 17. Gion DeFrancesco will chair with presenters Raymond Kent and Sonya Julian. This is an intimate walking tour of architectural performance spaces in Cincinnati's historic urban neighborhood Over the Rhine. Tour the architectural gem Music Hall and the brand new School for the Creative and Performing Arts building, along with Cincinnati Shakespeare Theatre and the Know Theatre. Learn how these groups have worked within their neighborhood to shape and influence the vitality of their arts community and have helped revitalize a troubled urban area. There will be a break for lunch (not included in the registration) allowing participants to sample the eclectic dining scene in Over the Rhine. Cost is $60 for members, $75 for non members.
The fourth workshop, sponsored by the Lighting Design & Technology Commission with Chair Jill Mullholland and presenters Larry French and Kathy Abernathy is Transitioning to a Career in Architectural Lighting Design and Nighttime Tour of Cincinnati Lighting 3:30 to 6:30 p.m. and 8 to 9:30 p.m. March 17. Theatre practitioners have provided award winning architectural lighting since the 1960s when the profession began. Two featured principles in successful architectural lighting design firms, Mr. French and Ms. Abernathy, will illustrate how students of theatre lighting can transition to an exciting career in lighting that has regular hours, benefits, and travel. After breaking for dinner, attendees will be led on an architectural walking tour of downtown Cincinnati. Cost for members is $85, non-member $105.