Commissions
Poster Sessions Return in 2015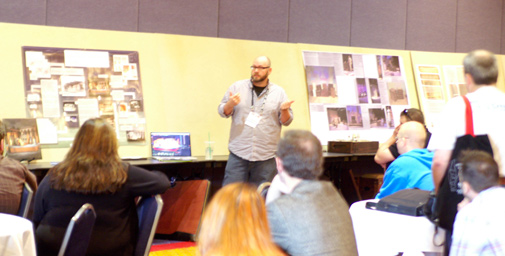 Several Commissions will hold Poster Sessions at the 2015 Annual Conference & Stage Expo in Cincinnati, Ohio, where members can highlight successful processes and share techniques.
Poster presentations are widely accepted as meeting the requirements for scholarly publication since all submissions are blind juried by the Selection Committee of each Commission.
2015 will be the third year the Lighting Design & Technology Commission will host a poster session. The 2014 session was "bursting at the seams" with refreshing ideas such as creating light plots with origami, ways of visualizing using a combination of model lighting with computer rendering, and a new photographic essay on light. Lighting poster proposals should be submitted using the guidelines and links here.
The Scene Design & Technology Commission is seeking submissions for its I Made It Myself Again session, following on the heels of its successful 2014 event. Innovative solutions to scene design problems, crafting exciting props, developing a new painting technique, pioneering new teaching methods, or using old products in interesting, new ways are among a few ideas that can be shared. Specifics and the submission link for scene design can be found at the SD&T poster information page.
The Education Commission's poster session will focus on practical projects for teaching technical production. This is an opportunity for educators and students to share the projects they use in their classrooms. To have a poster considered by the Education Commission, as well as explore guidelines, visit the Education Commission's poster page.
The Costume Design & Technology Commission has been sharing ideas through posters for many years. In addition to the poster session at the Annual Conference, costume posters are archived on the USITT website where they are available to members throughout the year. Those wishing to submit a costume poster should read the guidelines and submit via the website here.
Successful applicants will be notified in early December if their proposed posters will be part of these sessions.