The Last Word:
Founder Reflects on USITT
I have always taken great pride in being the co-founder of USITT.
Meeting Tom DeGaetani was due to the designer David Hays (later founder of the "Theatre of the Deaf") who heard both Tom and myself expressing similar comments about the lack of coordination and cooperation between those concerned with designing new theatres. It seems impossible that over 55 years have passed since the founding conference in New York City. In thinking about my term as the second President of USITT I take the most pride in putting together (a) the team and financing for Theatre Design and Technology, itself now entering its own 50th year, (b) creating a USITT Office and a full-time (one-person) staff and (c) growing the membership including a budding chapter in Canada.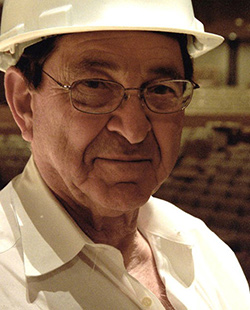 And having finished that term as President, incoming President Donald Swinney convinced me and later the USITT Board of Directors that we must begin to pursue communication with like communities of designers and technicians and architects around the world. We started making these international contacts as early as 1965, and through various false starts and stops ended up as prime movers in the creation of what in 1969 became OISTAT, established and funded by the Czech Ministry of Culture in Prague.
Four years later as the second President of OISTAT I had the problem of finding a Czech successor when our Secretary General Ota Ornest was jailed on charge of sedition. (Later, of course, exonerated!) Our friendship with the Czech designer Josef Svoboda solved that problem when Svoboda agreed to the use of his name, and the Ministry resumed our funding. I suppose the exhilaration of being a "founder" of OISTAT was exceeded only by being the captain of the USITT team for the United States Exhibition (co-leader was Patricia MacKay) of the Golden Triga (first-prize) winner of the 1987 Prague Quadrennial of Scenography and Theatre Architecture. Patricia and I were good organizers and fund-raisers and fortunately we had secured John Conklin and Jennifer Tipton as exhibit designers.
I've been pleased to be called a mentor by some of those I introduced into our international efforts including Arnold Aronson, Eric Fielding, Michael Ramsaur, Steve Terry, Alexandra Bonds and the late Samuel Scripps (who turned out to be a huge supporter of USITT's international efforts). I should note that Fellow Eric Fielding as well as the late Ned Bowman have been my creative co-chairs of USITT's international efforts.
It is also time to give thanks to the (late) Kliegl Bros. Lighting Company where its then President Herbert A. Kliegl supported my international comings and goings for over 20 years, and later to (again, the late) Artec Consultants where Russ Johnson did the same for ten years. Of course I tried to be a productive member of the management and design teams at both of those venerable institutions over those same periods of time.
As Artec Consultants was fading in the mid 1990's , I established my own consulting firm providing services in theatre planning with a specialty in theatre and concert hall lighting. That has provided the opportunity for even more travel and the design of new performance facilities in Budapest, in Aalborg, Denmark, in Finland, Japan, Montreal, California, Indiana, Pennsylvania, Florida, and where else have I been? That work is continuing and I'm always game for new and interesting projects.
I don't know where I got the idea that I was responsible for collecting all of the available theatre lighting history and technology that came my way, but it was aided and abetted by all of that international travel. Subsequently, and for several years now, I have been annotating and shipping boxes and boxes of lighting collectibles off to the Lawrence and Lee Theatre Research Library at Ohio State University. A group of very unique "pose" slides from the early 1900's I had salvaged from the Kliegl rubbish bins were the subject of an article in the Fall 2014 TD&T. I like the Lawrence and Lee as a repository because part of the theatre department graduation requirement includes research into some aspect of the Library's collection.
I had the honor to address the USITT Conferences for the 40th and 50th USITT Anniversaries and (hint, hint) maybe someone will think to invite me for the Conference that celebrates 60 years of USITT. Meantime, it's great to be a Fellow of USITT and watch all of those (you!) youngsters hard at work guiding USITT to even greater success.