News From
Sustaining Members
Live! Technologies: New Sustaining Member
We welcome Live! Technologies as a new Sustaining member of the organization. The company will be exhibiting at Stage Expo in Cincinnati.
Their website at www.reallivepros.com shows off the many aspects of the company, from live events to AV installations, to production, to creative services.
"We exist for the busy professional looking to enhance and elevate their meeting and event spaces. From boardrooms to ballrooms and beyond, we deliver seamlessly executed live experiences through creative design, engaging event production, and intelligent technology installation," they note.
GLP: New LED Batten Lights Super Bowl Halftime Show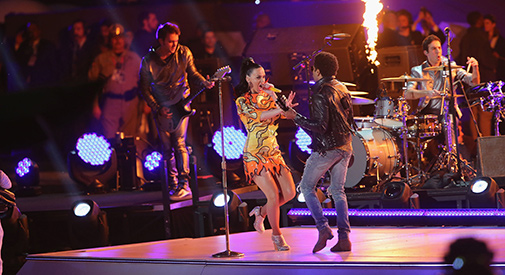 GLP could hardly have picked a more auspicious event than the legendary Halftime Show at Super Bowl XLIX in Glendale, Arizona for its new X4 Bar 20 LED batten to make a spectacular North American debut.
During the 12-minute segment, which Katy Perry headlined, experienced Lighting Designer Bob Barnhart (of Full Flood) used 12 of the new X4 Bar 20, as well as 16 of another recently introduced fixture, GLP's large format impression X4 XL (which features 55 x 15W LEDs).
The X4 Bar 20's zooming and tilting features and low profile helped produce different effects. At one point, Ms. Perry entered the stage on a giant tiger (with her performing sharks) to be joined by Lenny Kravitz and Missy Elliott.
The lighting inventory was provided by PRG's Los Angeles-based account manager (and Super Bowl veteran) Tony Ward
RC4 Wireless: Super Solution to Saturated Super Bowl Frequency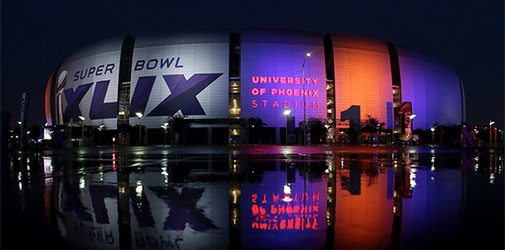 When it comes to big stages, there are few with as many operational complexities as the annual Super Bowl. Coordinating wireless controls for lighting around the stadium to keep from interfering with the frequencies used by the NFL was a challenge met by RC4 Wireless.
To help lighting designers stay off of an already saturated 2.4GHz band in an environment where hard wiring was impossible, the company offered the RC4Magic-900, a 900MHz version of the RC4Magic Series 3 wireless DMX and dimming system which recently won a PLASA Award for Innovation.
While other companies struggle to improve how they utilize the crowded 2.4GHz band, RC4 sees opportunities to move out of 2.4GHz entirely.
"902-928Mhz is limited to The United States, Canada, Brazil, Singapore, and Australia," declared James David Smith, the founder and chief product developer at RC4 Wireless. "Even so, we have seen several of our largest theme park, theatre, stadium, and North American tour customers shifting away from 2.4GHz. When I created RC4 Harmonized Design to accommodate not only our own 2.4GHz RF solutions but also industry-acclaimed LumenRadio CRMX and Wireless Solution W-DMX, the result was a versatile, patent-pending platform for rapidly solving new problems with maximum dependability. Incorporating alternate RF technologies is one of numerous powerful advantages."
Theatre Projects: New Chinese Theatre Features Spectacular Water Show
The Han Show Theater in Wuhan, Hubei is the most ambitious theatre ever undertaken by Theatre Projects and the most spectacular performance space in all of China. It's a purpose-built 2,000-seat theatre which is home to an equally ambitious water spectacular, the Han Show, which premiered on December 20.
The grand opening marked the culmination of four years of design and construction. The awe-inspiring water spectacle and iconic venue anchor one end of the new, mile-long Han Street retail, dining, and business district.
Working for the Wanda Cultural Tourism Planning & Research Institute Co., Ltd., Theatre Projects provided full theatre consulting services. This included a vast array of non-conventional specialized equipment required for an extraordinarily complex water show. Theatre Projects also provided on-site project management throughout design and construction.
The cylindrical Han Show Theater measures over 100 meters high from basement to roof and over 100 meters in diameter. Beyond the conventional, over-scale TSE systems and unique special effects, the theatre includes an 8.2 meter deep performance basin which holds over 10 million liters of water.
Vectorworks: Plan Design Summit in Philadelphia
The Vectorworks Design Summit will be held April 27 to 29 at the Sofitel Hotel in Philadelphia, Pennsylvania.
Join the software company that helps transform the world by attending a networking event with visionaries who share a passion for design. From dynamic keynote presentations to engaging thought-leadership breakouts, the Vectorworks Design Summit will help solve the next design challenge.
Cobalt Studios: Offers Spring Courses
As winter turns to spring, Cobalt Studios in White Lake, New York offers several, multi-day events for scenic artists with special instructors in two April sessions.
Bob Moody will lead Landscape Painting for Murals and the Stage April 6 through 10. Brandeis University's legendary professor is a lover of painting large scale dramatic landscapes. This seminar will take participants through a 9-by-12-foot landscape of their own. Learn how to masterfully render the elements of landscapes - skies, mountains, fields, rocks, and trees.
Using Pneumatic Sprayers for Scenic Artwork will be held April 13 to 16. Complete intensive, hands-on projects guided by Kamilla Harkless from Los Angeles, California, where spraying is big. Participants do lots of spraying, enough for the sprayer to become an extension of the hand. Walk away with four sprayed projects and the confidence to continue.
For more information on these and other courses, visit www.cobaltstudios.net
Mega-Lite: Introduces the Outshine T54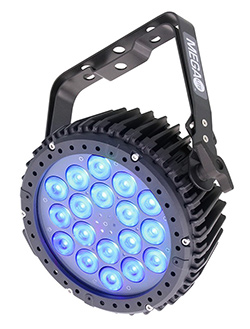 Mega-Lite recently launched the Outshine T54 par fixture for outdoor use.
The Outshine T54 is very powerful with 18 3-watt Tri-RGB LEDs and is IP rated 65. It is versatile with three modes of operation and four dimming modes, and is flicker free. The unit features silent operation, making it an ideal unit for indoor use as well. Production friendly, the Outshine T54 fits in most 12-inch truss and is lightweight. With use of the unit's double mounting yoke, it can be hung or ground stacked.