News From
Around the Institute
See You in Cincinnati?
There is still time to decide to attend the 55th Annual Conference & Stage Expo. New presenters, exciting sessions, and a whole constellation of creative intersections will be part of the March 18 to 21 event.
On-site registration will open early Wednesday morning in the lobby of the Duke Energy Convention Center.
To speed the process, register online (www.usittshow.org) and save time picking up credentials.
Whether you call it Porkopolis or the Queen City, see you in Cincy...
Follow the Action!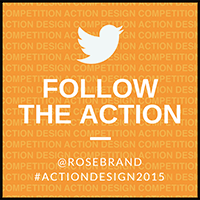 The applications have been submitted, and teams have been chosen! They don't know who they're working with yet, but designers and theatre directors are gearing up for the Rose Brand Action Design competition.
Each team is challenged to create a design from a mystery theme with limited supplies. Get ready to vote for a favorite design. Track the progress of the four Action Design teams on Rose Brand's Twitter and Facebook pages starting March 18 during the USITT Annual Conference & Stage Expo in Cincinnati, Ohio. Use hashtag #ActionDesign2015 to see the latest photos and posts from this year's competition.
Tosti-Lane Retires from Cornish College
Long-time Cornish College professor and chair of Performance Production Department Dave Tosti-Lane retired in December, and Ron Ericson and Greg Carter were named as interim co-chairs.
Mr. Tosti-Lane, a stalwart of the Sound Design & Technology Commission, will continue his stint as Sound Commissioner for USITT.
Mr. Carter, an associate professor, is the founding artistic director of Strawberry Theatre Workshop (Strawshop) which won the 2007 Stranger Genius Award for an Arts Organization, and was nominated in four consecutive years for the TPS Gregory Award for Outstanding Production from 2010 to 2013. Mr.Carter is the former production manager at Book-It Repertory Theatre.
Mr. Erickson is head of wardrobe at Seattle Opera, and has designed costumes and scenery for Pacific Northwest Ballet, Intiman, and others. He has taught at Cornish College for more than 30 years and is a founding faculty member of the Performance Production Department, where he is head of costume design.