News & Notices
Fellow MacKay to Receive TEA Award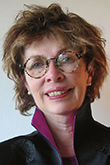 USITT Fellow Patricia MacKay will be honored by the Themed Entertainment Association with the TEA Distinguished Service Award at its annual Thea Awards in March.
A long-time member of the Institute, Ms. MacKay was named a Fellow in 1984. TEA credits her with helping form a bridge between the theatre industry and themed entertainment for 25 years.
Ms. MacKay founded the publishing entity that produced Lighting Dimensions (now Live Design), and the LDI trade show. On TEA's creation in 1991, she worked to promote mutual interests between the two industries, organizing workshops and events such as Themed Entertainment Weekends and Women in Technology meetings. She has helped organize the annual Thea Awards since the 1990s. In 2012, she became a co-chair of the annual TEA Summit conference.
"Pat MacKay has continuously and generously given of her unique perspective, resources, and connections – as well as her time - to further TEA's mission," said TEA President Steve Birket. "She has done much to help drive awareness of the industry, and awareness within the industry consistently - with passion, humor, intelligence and style."
The TEA Distinguished Service Award was established four years ago to recognize a TEA member's outstanding contributions.
A pioneering figure in entertainment communications, Ms. MacKay currently divides her time between her consulting group Ones&ZerosMedia and her role as editorial director for Quite Specific Media Group. She is working on digital development and content projects in theatre, film, themed entertainment, costume, sets, projection, and lighting under the banner of A Pat MacKay Project for Quite Specific Media.
Over the years, Ms. MacKay has presented panels and workshops on entertainment architecture, theatre architecture and themed entertainment, and location-based entertainment design. In the 1980s, she co-chaired the U.S.A.'s golden-Trigue-winning Prague Quadrennial Committee. She is a winner of both the New England Theatre Award and the USITT Health & Safety Award.
She has served on the Wally Foundation Board of Directors and is active on the USITT Fellows Make It So task force. In 2007, she was honored with LDI's Light In Life award. In 2012, she produced sessions for the annual USITT Conference aimed at bringing themed entertainment professionals together with performing arts professionals to learn from each other.
The public is welcome to attend the black-tie 21st Annual Thea Awards Gala, which will be held March 21 at the Disneyland Hotel, Disneyland Resort, Anaheim Calif. For more information, visit www.teaconnect.org.