Conference & Stage Expo
A Bigger, Better Paint Lab in Cincinnati!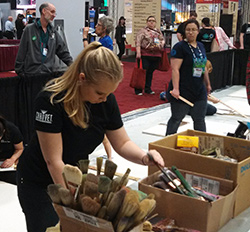 Last year's Paint Lab was so popular that it has been expanded for the 55th Annual Conference & Stage Expo in Cincinnati, Ohio March 18 to 21.
In 2015, the Paint Lab will feature not only the Scenic Art Challenge but several workshops by a variety of scenic artists while Stage Expo is open.
The Scenic Art Challenge will be held 1 p.m. Friday, March 20 in the Paint Lab on the Stage Expo floor. Up to 16 students will be allowed to show off their painting skills under the supervision of professional scenic artists and instructors. Students will be given a rendering and supplies, and will have four hours to create the painting in the lab. Observers are welcome. On Saturday, a panel of scenic artists will give feedback to all the participants.
Space in the lab is limited. Faculty should make sure students know about this opportunity, so they can bring their paint clothes to the Conference. Participants can sign up for the event starting Wednesday morning in the message area near registration.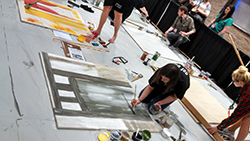 The Paint Lab is sponsored by the Scenic Design & Technology Commission, but many individuals participate as volunteers. Rosco will again supply the paint, and the faculty and staff at University of Cincinnati College-Conservatory of Music will supply tools and supplies.
For questions, e-mail phelps@paintersjournal.com.
Those at last year's Conference in Fort Worth may remember the first Paint Lab and Scenic Art Challenge. Eighteen students participated in the Scenic Art Challenge. Many people stopped by to observe the student painters and came to the feedback session the next day.