News From David Grindle, USITT Executive Director
Opening a Secret Window – Extending Conference Learning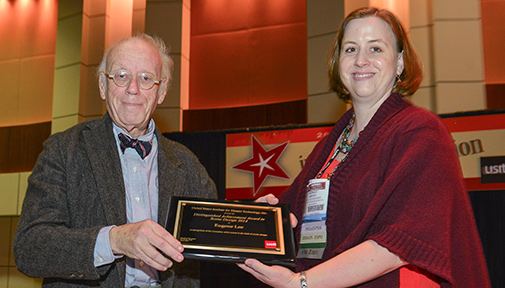 I must now acknowledge that USITT invests obscene amounts of member dollars on a black ops algorithm that schedules all of every Conference attendee's favorite sessions at the exact same time. It is a daunting task and one that we seem to get better at each year.
In all seriousness, I hope that it is the quality of our programming that is creating this challenge. For the past few years, we've been working to insure a balance of entry level, mid-level, and advanced programming. We can always get better at this, but I hope people see a significant improvement.
Even so, each year we are asked if sessions are being recorded. There have been a variety of challenges to that in the past which we now have overcome.
I am happy to report that, in 2015, Conference attendees will be able to purchase recordings (video and audio) of more than 75 sessions, a mix of events from all Commissions. While we couldn't record every session due to logistics, we will offer many of the most popular sessions on every skill level.
The other challenge of our major event is that "it's tech week somewhere," and people don't have the ability to make it to the Conference. Sessions will be available for purchase by non-attendees as well.
Recordings will be grouped by Commission, and those who are attending can purchase a Commission group for $25 each. All recordings from the 2015 Annual Conference & Stage Expo will cost $100 for attendees. These prices are valid only during the Conference week, so please be sure to order them on site.
After March 21, members can still receive Commission sessions at $45 per group, or $175 for the full conference. Non-members can purchase a single group of sessions for $75 each or buy all those that were recorded for $300.
Recordings will be captured from an onsite stream, and most will contain the speaker's voice and the images from the presentations. Some sessions will include video of the speakers as well. Purchasers will receive e-mail links to their items once the feeds have been processed.
A full list of sessions will be available online at www.usittshow.com.
USITT strives to make learning available to all at a reasonable price. We hope that you are able to take advantage of this new service, and we really hope it solves the problem of all the "good" sessions seeming to be at the same time. We'd really like to get those algorithm elves out of our offices!