News & Notices
Study Tour Includes PQ '15, Stage/Set/Scenery

Opportunities to experience both the Prague Quadrennial and the Stage/Set/Scenery event in Berlin have been packaged in a 16-day tour of Germany and the Czech Republic in June.
Tour dates are June 9 to 24 for the theatre and architectural tour. To be as inclusive as possible, special accommodations and lower pricing for those wishing to stay in student hostels will be available. Tour leaders Alessia Carpoca and Mike Monsos created the option with MGTourCo. to make the study tour affordable to younger travelers who may have more limited budgets.
Price for the land package is just $2,940 (double occupancy) for those staying in three- or four-star hotels. Cost is $1,760 for the student hostel option.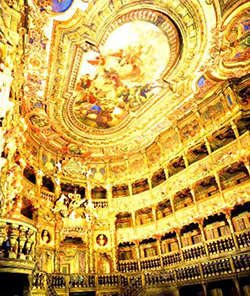 Day trips, such as a visit to the magnificent palace of Frederick the Great in Potsdam, and a private tour of the Semper Opera House in Dresden and the Margravial Opera House in Bayreuth are planned. In Plzen, the city credited with creating Pilsner beer, both the J.K. Tyl Theatre and the Brewery Museum are on the itinerary. On the itinerary is a day trip to Cesky Krumlov, the UNESCO World Heritage Site, and a beautifully preserved medieval town, including the Cesky Krumlov Castle and the Baroque Theatre.
The 2015 Study Tour will start in Berlin. Participants will meet with German theatre professionals and have three-day passes to Stage/Set/Scenery. The tour will end in Prague where tickets and transportation to the Prague Quadrennial is included, as is entrance to the Prague Castle, St. Vitus Church, and other museums.
Participants can expect extensive walking to visit the wide variety of events, sites, museums, theatres, and castles included in the tour.
For a compete, day-by-day itinerary, visit www.usitt.org/2015studytour. MG Tour Company, Inc., which is assisting in arranging the tour and taking reservations, can be reached at tourrequest@mgtourco.com. The company can also help with flights to Europe and accommodations before and after the tour events.