News From
Sustaining Members
RC4 Wireless/Soundsculpture Inc.: Wireless Equipment Makes Wicked Travel Easier
The sell-out musical sensation Wicked has hit the United Kingdom and Ireland touring circuit with a sleeker and altogether more agile show with the help of wireless DMX products from RC4 Wireless/Soundsculpture Inc. and Lumen Radio.
The Wicked UK and Ireland tour is one of the biggest tours of its kind. The aim was to retain the same production values and scale as the West End show, while scenically and technically making it easy to transport. Part of this process has been to replace the complex cabling that fed moving scenic elements with a range of powerfully compact wireless DMX products from RC4 Wireless. Utilizing state-of-the-art LumenRadio CRMX rf technology, these products include RC4 LumenDim4 4-channel low voltage dimmers, RC4 LumenData receivers and SuperNova software from Lumen Radio.
Alcons Audio: Audio Company Displays in 'Home Town' at ISE 2014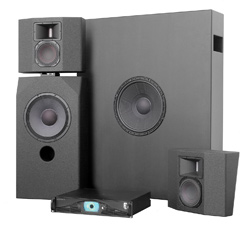 Dutch audio innovator Alcons Audio showcased its latest pro-ribbon sound system innovations at the Integrated Systems Europe show in Amsterdam Feruary 4 to 6.
The relatively wide scope of the show enables Alcons Audio to display its broad portfolio of system solutions. For more information visit www.alconsaudio.com and www.proribbontechnology.com.
GLP: Impression X4S Keeps Christmas Jam Running All Night
Preston Hoffman provided a dynamic lightshow with a difference for the third consecutive year at the annual Warren Haynes Christmas Jam in Asheville, North Carolina. He decided to use GLP's new compact Impression X4S almost exclusively, bolstered by a few other discharge or conventional tungsten effects.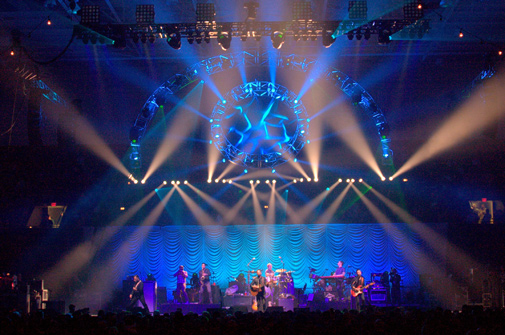 Stagecraft Institute of Las Vegas: Seek Students for 2014 Sessions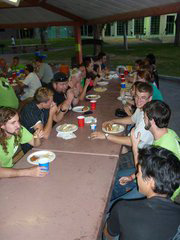 Stagecraft Institute of Las Vegas is looking for students to fill the remaining seats for SILV 2014.
Students from Mexico City, Mexico; Johannesburg, South Africa; and Colorado, Maine, Louisiana, Texas, California, Massachusetts, and Nevada in the United States, are already signed up.
For more information, visit www.stagecraftinstitue.com.
L-ACOUSTICS: AVL System Retrofit Part of Church Expansion
Calvary Church of Naperville, Illinois, located in the western suburbs of Chicago, recently wrapped up a five-month sanctuary renovation that increased seating to 3,000 without moving any walls. As part of the project, the church also underwent a full AVL system retrofit, which features L-ACOUSTICS' KARAi system provided by CCI Solutions of Olympia, Washington.
The system was chosen over five others bidding for the job.
For more information on Calvary Chapel of Naperville, visit www.calvarynaperville.org. CCI Solutions, an L-ACOUSTICS certified provider, can be found at www.ccisolutions.com.