News From
Around the Institute
Get Ready for Design Team Voting!
Applications have been submitted and the Rose Brand Action Design teams have been chosen!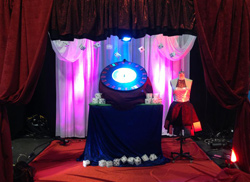 Get ready to vote for a favorite design. Track the progress of the four Action Design Competition teams on Twitter and Facebook starting March 26 during the Fort Worth 2014 Conference & Stage Expo. Rose Brand will be located at booth 1109. Each Action Design Team will be located on the perimeter of the show floor in labeled booths RB1, RB2, RB3, RB4 and RB5.
This year a special Professionals Team will be placed in competition. This team has the same challenge as the student teams which is to create a design from a mystery theme with limited supplies. Take the opportunity to browse the designs and watch the action from start to finish. Voting will be available at the Rose Brand booth or on the company's Facebook and Twitter pages.
See You in Fort Worth
The boots are being packed, the office is moving massive amounts of great merchandise for the store, and the National Office is ready to meet members from far and wide at the 54th Annual Conference & Stage Expo. The whole event is filled with new ideas, innovative design, imaginative technology, and just plain great Texas fun. It is not too late to participate. Sign up now.
Members, remember to sign in first to get your discounts.
Annual Meeting on March 26
After Jaston Williams gives the Keynote in the Fort Worth Convention Center Arena, make sure to be part of the 2014 USITT Annual Meeting. This is the official business session of the Institute, and provides an opportunity for members to hear about the overall health of the organization, ask questions, or just be able to put names and faces together for members of the Board of Directors. The Keynote and Annual Meeting session starts at 11 a.m. on Wednesday, March 26.