News & Notices
A Trip to London with USITT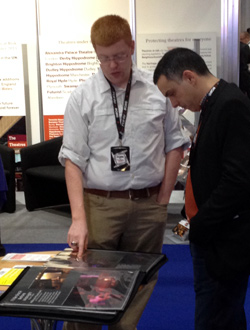 As a recent graduate from Purdue University, I thought that fall 2013 would be interesting because it was my first fall not in school. I expected to be working in Chicago area theatre, going to the wedding of one of my best friends, venturing to Pennsylvania to design for Lock Haven University, and working on a fundraising concert for Young People's Theatre Company. I did not anticipate adding a trip to London with USITT to attend the 2013 PLASA Tradeshow!
When David Grindle first called me and offered me this opportunity, I was floored. I was excited to get to travel to London because I have always wanted to visit Europe -- but to travel to London for theatre and doing what I love, that made it infinitely better.
I arrived in London and went to bed as soon as I arrived at the hotel; a night of little sleep due to a wedding and then straight to an airport meant sleep was needed before heading to the show. We arrived at PLASA the next morning, and I helped set up the USITT booth. I started looking around at the equipment that was on display and was thrilled to see some of the latest and greatest equipment debuting at the show.
I was immediately impressed by a company called TMB which produced an LED strobe light called Solaris Flare that stunned me with its brightness. Not only was I impressed with this fixture and saw possible design uses for it in my future, I was thrilled that the CEO, Colin Waters, demonstrated it for me. Colin was just one of many people I started meeting at PLASA who allowed me to feel I was making contacts that could benefit me for years to come.
Along with TMB, I also talked with City Theatrical, whom I have been a fan of for years because of the equipment and programs (I find Lightwright a very beneficial tool as a lighting designer) that I have either bought or used. I was amazed after hearing Gary Fails, the president of City Theatrical, talk about the company and how they actually had to rebuild after Hurricane Sandy hit the New York area. Knowing that City Theatrical rebuilt better than ever reminded me that the theatre industry is a strong force and will be around for years to come.
My favorite contact was someone I had no idea I would even come close to meeting. On the second day of the trade show, I was briefly introduced to Rick Fisher, lighting designer for Billy Elliot: The Musical and member of the Association of British Lighting Designers. Meeting a Tony Award-winning lighting designer is thrilling enough, but to have him sit down with me the next day and look over my portfolio was the highlight of the trip. Being told from a highly acclaimed designer that my work was "good work," was enough validation for me to realize that I am following the right path.
I cannot express the thanks I have not only to USITT but to Lea Asbell-Swanger, Marketa Fantova, David Grindle, Janet Gramza, Christine Troscher, and Ron Procopio for allowing me this opportunity and spending the week with me. These four USITT staff members made me realize that, even though I am just a recent graduate, my ideas and opinions matter. In essence, no matter what point someone is in a career, USITT will take opinions into consideration to help make the organization better for its members.