The Last Word:
Unexpected Paths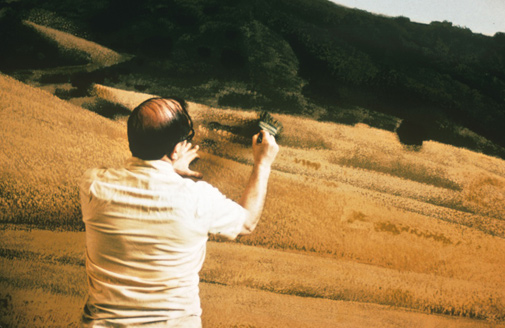 "How does a book project begin? Sometimes by design but as often by serendipity," writes Karen Maness and Richard Isakes in their article "Perspective" in the November/December 2013 issue of The Journal of the Art Directors Guild.
Ms. Maness has had a serendipitous journey through her activities with USITT that has opened doors to many opportunities. She will join the incoming class of the USITT Board of Directors this summer.
The path that eventually led to a book idea began when, as a Scene Design & Technology Commissioner, Ms. Maness was organizing a program about design and craft opportunities in the entertainment industry for the Long Beach 2012 Conference & Stage Expo. The West Coast Scenic session centered on scenic backings, or backdrops, for film and television.
Her article describes how, when she approached the Art Director's Guild (ADG) with the session idea, they directed her to journeymen scenic artists Michael Denering, Pat DeGreve, and John Moffitt for an insider's look into the world of the scenic artist in Hollywood film and television. Their stories "hinted at a fascinating untold narrative long overlooked by those who document the history of the industry," the article says.
After the Conference, ADG asked Ms. Maness, charge artist and member of the scenic painting faculty for Texas Performing Arts, and her University of Texas at Austin colleague Richard Isackes to investigate and archive the story of the Hollywood backing. Thus began the ADG Scenic Artists' Oral History Project.
"I have collected hours of interviews and hundreds of images of the finest of Hollywood backings artists," Ms. Maness said of her efforts over two years.
A documentary book offering a rare glimpse into the hidden world of Hollywood's painted movie backings is a natural result of the project.
Ms. Maness, collaborating with ADG, will oversee a third exhibition of stunning Hollywood backdrops from many popular movies at J.C. Backings this summer, timed to correspond with UCLA's Showcase West. Here is a link to last year's event.
Ms. Maness is thankful for the many unexpected doors that have opened to her through USITT and put her on such unexpected, but exciting paths.