News From
Regional Sections
Midwest: Cirque Workshops Scheduled March 21 to 23
The Midwest Regional Section will present its Cirque du Soleil Live Entertainment Workshop, Friday, March 21 through Sunday, March 23 on the Purdue University campus in West Lafayette, Indiana.
This workshop available at no charge. Cirque workshops will bring participants together in one meeting place to consider common concerns and topics. This will followed by Master Classes targeted at specific disciplines including acting, audio, automation, management, lighting, and rigging. At the end of each day, the group will meet together again to celebrate the magic of live entertainment in special events hosted by Cirque du Soleil. Visit midwest.usitt.org/cirque for more information and the registration form.
Southwest: Symposium and Collaboration with Broadway Across America's Touring Production of American Idiot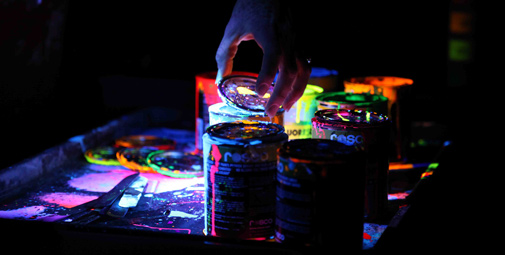 The University of Texas at Austin was the setting for the Southwest Regional Section's 2014 Symposium January 17 to 19. The three-day event included hands-on workshops, design exhibits, networking, and a speech by David Grindle, USITT Executive Director.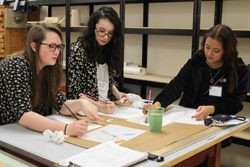 The record-breaking 260-plus attendees also had access to the national tour of Green Day's American Idiot. Representatives from dozens of regional colleges and universities and four Texas high school groups were there. Students were able to network and connect with industry professionals securing interviews for summer and long-term work.
Thirty-one workshops included information on armor construction, 3-D modeling, LED lighting, digital rendering, stage management, painting and lighting translucent drops, wigs, props, puppets, and a TD roundtable. On Saturday, Paul Horpedahl, director of production for Santa Fe Opera, provided the evening's keynote address. On Sunday, Stacey Myers from Cirque du Soleil provided the second keynote.
For nearly 12 hours over Saturday and Sunday, guest responders and adjudicators talked with the students as they presented their work on one of the 81 panels or tables in the region's Student Design/Tech/Management Competition.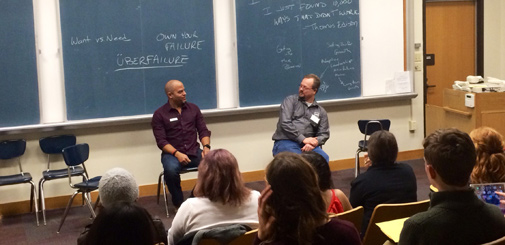 Ohio Valley: Seek Help to Archive Historic Theatrical Equipment at Penn State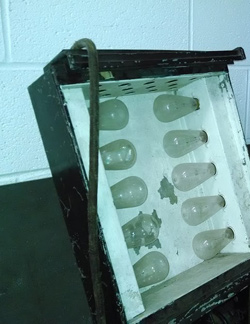 Buried in the acoustical baffles and storage areas of Penn State University's Theatre Building is veritable Raiders of the Lost Ark warehouse containing theatre technology artifacts: lighting fixtures from the '30s to the '70s, an intact original light palette, a light plot hand drafted by Stanley McCandless, product information, and company memorabilia. To help document and archive all the material, the Ohio Valley Regional Section will sponsor a team to spend a week there June 8 to 15.
Members will complete a professional development workshop on documenting and archiving then create digital images of each artifact, document them, and create a master list of what is stored there.
The Section has obtained funding for food and lodging for the group, but needs support for the team's travel expenses as well as more team members. To help out, contact William Kenyon, professor at PSU, wkenyon@psu.edu, or Jeffrey Gress, Chair, Ohio Valley Section, at jgress@capital.edu.
Photos/Courtesy Jeffrey Gress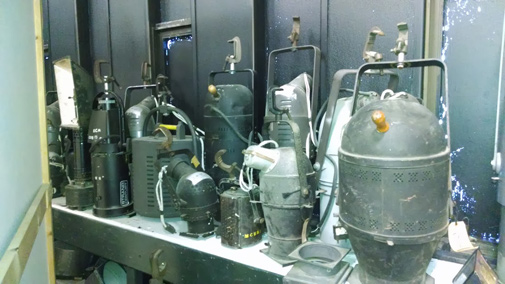 California: PCPA Hosts Mini-Conference, Celebrates 50 Years
The California Regional Section held its Mini-Conference and Career Expo January 25 in Santa Maria, at PCPA, which is celebrating its 50th anniversary this season.
The event, with 79 participants, included welcome remarks by PCPA Artistic Director Mark Booher and a rousing keynote address by Libby Appel, artistic director emerita of the Oregon Shakespeare Festival. Martha Marking, USITT Vice-President for Members, Sections, and Chapters also attended.
There were mini-workshops on scenery automation, specialty props construction, scene painting techniques for stage floors, and scenic model-making. The programming also included tours of PCPA's recently renovated and expanded facilities.
The student design, technology, and stage management competition and exhibit resulted in three award winners: Jayne Dutra of Cal State Fullerton, David Hernandez of USC, and Travis Nelson of PCPA. The Career Expo featured representatives of Cal State Fullerton, Debbie's Book, ETC, Doug Fleenor Design, H & H Specialties (whose much-appreciated donation paid for the morning refreshments), Kingsmen Shakespeare Company, PCPA, Princess Cruises, Rose Brand, Smash Props/NewRuleFX, and Smooth-On.