News & Notices
Apply for Elite Training in Las Vegas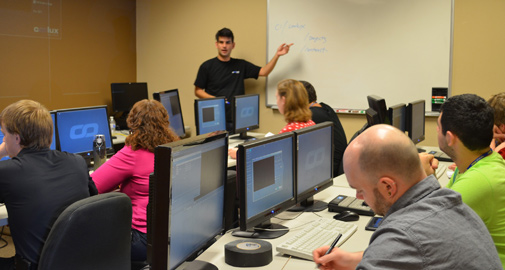 Applications are open for USITT's 2014 Elite Training weekend May 29 to 31 at the Cirque du Soleil Training Center in Las Vegas, Nevada.
The program, open to student and early career members, offers three days of hands-on training to eight participants each in the fields of rigging, automation, projection, sound, and – new this year! -- stage management.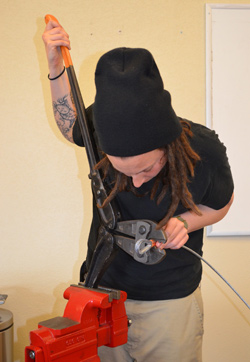 The deadline to apply is April 18, and applicants will be notified by April 28. Apply here.
Past trainees describe Elite Training as a life-changing experience. It includes:

intensive small-group and one-on-one attention from top trainers at Cirque, Stage Technologies, Silver State Wire Rope, Coolux, Meyer Sound, and CM Entertainment Technology,
hands-on learning with partners' latest products, and

backstage tours and job shadowing on Cirque shows such as KÁ, Mystère, and Criss Angel BeLIEve.
Tuition is free for those accepted into the program; participants pay for their travel, meals, and housing. (A block of discount hotel rooms will be available near the training center.)
This will be USITT's fourth year offering Elite Training. One of last year's rigging participants, Jen Seleznow, assistant technical director at the Lookingglass Theatre Company in Chicago, called it "a great experience for students and young professionals."
"Aside from learning about new products and practices, I found the full-scope exposure to Cirque du Soleil both dynamic – in that so many sections of the company were revealed – and encouraging, because the tour leaders and trainers were so approachable," she wrote in a thank-you to USITT.
Elite Training Coordinator Shane Kelly said the sponsors – including a new rigging sponsor, Nicopress, for 2014 – offer their best equipment and training personnel "to contribute to our participants' experience."
Silver State Wire Rope and CM Hoists welcome rigging students into the Silver State shop, training room, and warehouse, he said. Coolux and Meyer Sound provide huge amounts of equipment and software along with very involved training staff. Stage Tech sets up many of their winches and control desks at the training center and welcomes students to its shop to practice their skills on other gear, Mr. Kelly said.
"Cirque du Soleil – the artists, technicians, and administrators – are so welcoming and generous with their time," he added.
"The Elite Training participants tour some of the shows and shadow on some shows, and in both instances they are fully included and made a part of that night's production. I am always struck by how intense the training schedule is, but how energized everyone is through all three days of training."
Click here for complete information and to apply for Elite Training 2014. Trainees must make their own travel and housing arrangements.