News From
Sustaining Members
Sapsis Rigging: To Perfom Safety Checks on Cruise Ships
Royal Caribbean Cruise Ltd. has chosen Sapsis Rigging to conduct safety inspections on all of Royal Caribbean International and Azamara Club Cruises ships. The combined fleet numbers over 24 ships.
The scope of the program includes safety inspections of the performance spaces on each ship. Most ships have two venues, but the Oasis class of
ships, which include Oasis of the Seas and Allure of the Seas, have three to four.
Sapsis Rigging has been conducting safety inspections since 1983 and has inspected venues in 49 states as well as Latin American and Canada.

Nemetschek Vectorworks, Inc.: Company Holds Virtual Event
Nemetschek Vectorworks, Inc. held the Vectorworks 2012 U.S. Virtual Event September 13 to 16 to unveil the next version of Vectorworks software.
The online event included a keynote address by CEO Sean Flaherty and CTO Dr. Biplab Sarkaras well as demonstrations on what's new in Vectorworks Architect, Landmark, Spotlight, and Fundamentals software. It featured videos and information about popular Vectorworks plug-ins. Industry experts were on hand to answer questions, and social media allowed attendees to network with other designers and share their experience. The second day featured presentations led by members of the Nemetschek Vectorworks engineering team including Building Design and BIM, Site Design, Collaboration Improvements, Entertainment Design, and Rendering Improvements.
For more information, visit www.vectorworks.net.
TOMCAT: Names Project Manager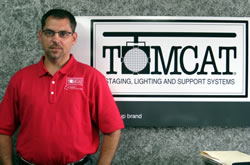 Scott Johnson has joined TOMCAT as project manager. He formerly was the senior design engineer at James Thomas Engineering where he worked for almost 11 years.
Mr. Johnson brings to TOMCAT his far-reaching experience and knowledge in production drawings, special projects, custom installs and training, advertising and marketing, customer service and solutions to meet their customer's entertainment, and structural needs.
Theatre Projects Consultants: Opens New Office in Los Angeles
Theatre Projects Consultants has opened its first office on the West Coast. The company has worked there for 30 years and TPC is thrilled to have a permanent home in Los Angeles, California.
Some of its more visible west coast projects include the Walt Disney Concert Hall and Kodak Theatre. Works representing the practice as a whole include regional theatres, university work, small-scale projects, performing arts centers, and renovations. Find out more about Theatre Projects on the West Coast at theatreprojects.com or visit Theatre Projects at: 453 S. Spring Street, Suite 1230, Los Angeles, California 90013.
The Los Angeles team includes Michael Ferguson, director of theatre projects; Keith Gerchak, registered architect and member of the design team, and Benten Delinger, director of theatre projects, who will split his time between the Connecticut and Los Angeles offices.
Stagecraft Institute of Las Vegas: New Offerings Planned for 2012
Stagecraft Institute of Las Vegas (SILV) is finalizing the schedule for its sixth season. The schedule and registration forms will be on the website by October 15. The core classes will continue to include Rigging (which qualifies for ETCP Certification Renewal Training), Automation, Sound Technology, Lighting Technology, Computer Modeling, Video and Projections, Moving Lights, and the Technician's Showcase.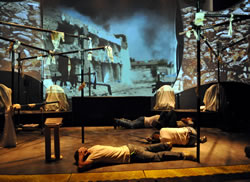 SILV 2012 will include several new aspects. For the first time, SILV will select one designer each in Set, Lights, Costume, Sound, Special Effects, Projections, Props, and Make-up to join the technicians for weeks five through eight. These designers will be selected from entries in KCACTF and USITT regional design expos. The eight designers will be expected to have completed or nearing completion of a BA/BFA and/or pursuing a post graduate degree. They will need to submit a resume and digital portfolio to SILV along with a letter of recommendation from a design chair at KCACTF or USITT.
At the conclusion of SILV 2012, a small group of SILV students will be selected to work with Martin Crawford, technical manager-Cirque du Soleil Resident Shows Division, to design and execute Concert Fantasy - an annual dance show benefiting the Make-a-Wish Foundation. The show will be performed in the new Smith Center for the Performing Arts.
Beginning with SILV 2012, CAD will be a prerequisite for the eight-week session. A student who has not had CAD can come early for a three-day intensive CAD course.