News & Notices
Valdez to Present 2012 Keynote, Distinguished Achievement Winners Honored
Luis Valdez, founder of El Teatro Campesino, will be the Keynote speaker when USITT launches its 2012 Annual Conference & Stage Expo on March 28. The keynote event, which will include the organization's Annual Meeting, is scheduled to start at 10:45 a.m.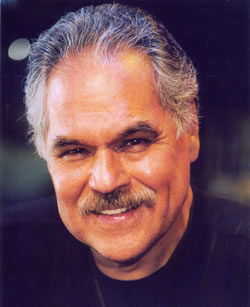 Mr. Valdez, who has been described as the founder of modern Chicano theatre and film, is the perfect person to open USITT's 52nd Annual Conference in Long Beach, California, said President Joe Aldridge. Mr. Valdez may be best known for both writing and directing La Bamba in 1987 and Zoot Suit in 1981. He has extensive writing and directing credits, and was the founding director and professor of the Institute for Teledramatic Arts and Technology at CSU-Monterey Bay.
A new feature of the 2012 Annual Conference will be a special session bringing together recipients of USITT's Distinguished Achievement Awards for a discussion of their work.
Winners include Michael Devine, scene design; Howard Brandston, lighting; Dana Nye, make-up; Tom Hall, management; and Judy Adamson, education. Kevin Rigdon will moderate the Friday morning All-Conference session.
The Hyatt Long Beach, which is currently being refurbished, will be the headquarters hotel, and USITT has negotiated special rates at the nearby Renaissance and Westin hotels. The direct link to USITT's hotel reservation service is available here. All guests who use the USITT Housing Bureau will receive free high-speed internet access in their rooms.
Online registration is scheduled to open October 1 for the 2012 Annual Conference & Stage Expo.
For more information on USITT's more than 200 sessions, 100-plus exhibitors, special exhibits, international presenters, and specialty programs, visit www.usitt.org/2012 where links can be found to registration, how to exhibit, and special events.