Commissions
Rediscovering the Lost Art of Research
For theatre artists, research is central to their work –particularly visual research. It can also become one of those problem areas to teach. Professors may ask, "Why don't my students get it?" and students chime in, "Where am I supposed to find it?" Hearing these questions and seeing students turn in undersized, pixilated images makes it an important topic worth addressing.
There are some highly sophisticated, internet-based tools for locating imagery that just couldn't be replicated in the traditional library. The best collection of tools was found housed in a singular website: labs.ideeinc.com. Idée has a simple goal–to make images more searchable. While this may sound similar to traditional search engines, it has three toolsets particularly useful to design research.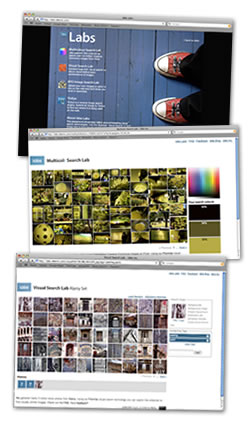 Multicolr Search Lab is an interface that searches for images specifically within a selected range of color. It is connected to FLIKR, giving literally millions of image possibilities. The interface is user-friendly, allowing users to choose up to five colors to generate the response.
The second toolset, Visual Search Lab, is a combination of a keyword/image search. When looking for texture samples, simply input the tags "peeling" and "paint," and it returns images matching those words. Click on the most desirable picture, and it will return images closely matching it. This search features images from the Alamy database, which are typically royalty-free images for purchase.
Finally, the BYO Image Search Lab is a simple tool with remarkable results. Like the name implies, if an image or image URL is uploaded, BYO will find matching results from Alamy. This is most useful in finding images of similar colors and contrast, not similar theme content.
Though there is no replacement for the library, the internet offers many options to supplement traditional research methods. Online toolsets, such as these offered by Idée, are certainly making the job of visual research a more manageable task for educators and students alike.