News & Notices
Students Reflect on PQ '11, Scenofest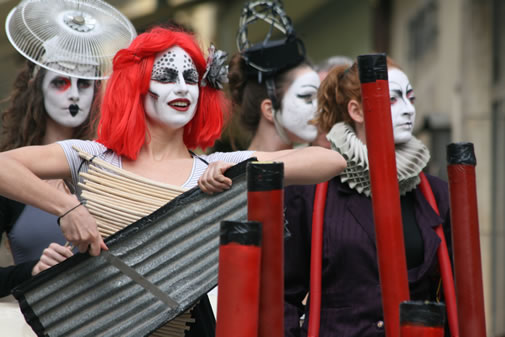 USITT helps students connect with the world of performance design through the student sections of PQ and Scenofest, created by OISTAT and held in conjunction with the Prague Quadrennial. PQ and Scenofest activities help start lasting collaborations, inform participating educational institutions about each other's goals and ideas, and leave participants with minds wide awake and open to the world of new possibilities.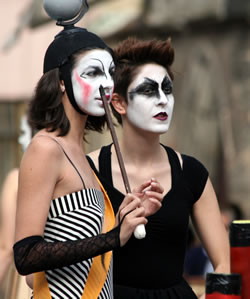 This year, Scenofest took over parts of the historical center of Prague. Jungman Square became a setting for 50 different street performances; Vltava River a path connecting mysterious scenes viewed from a boat; a normally empty street became a living room open to anyone interested in conversation; and a crypt transformed into a place of discovery.
More than 1,000 students from around the world participated in 60 workshops led by 40 world-renowned artists. Disk theatre presented performances of nine different universities for more than 1,300 audience members.
Peter Reed, student, producer, curator and assistant to the artistic leader of Scenofest, wrote an article about his participation. This excerpt will help readers feel as if they were there:
On June 16, 300 people gathered in Prague's Franciscan Gardens to witness the first of the Six Acts performances at Scenofest 2011. Performers burst through a false wall in the side of the garden tearing it to shreds, and the audience flowed into the space amidst a soundscape of whisperings and half-stories.

The performance pushed on through sunset with extreme paper costumes illustrating a surreal sequence of action. A drunken princess being swallowed by her dress, serene women on park benches reading books that eventually consumed their heads, and a trio of faceless singing dresses that performed an irreverent set of songs amongst the roses. Finally the costumes themselves were torn away, just like the wall in the beginning, and a hushed monastic chant sent the audience off into the night.

I have been working on Scenofest for two years as a student assisting the artistic leader, Jessica Bowles. At this moment in the garden, the project became a meaningful reality, and the long journey of programming, negotiating, marketing, and liaising was worthwhile.
The United States and United Kingdom are the only two countries that regularly include students as members of national creative team. It is USITT that enables this student involvement which becomes a valuable investment in future development of performance design and an eye-opening experience.
Below are a few words written by students who came to PQ and Scenofest, some of them part of the US national exhibit team.
"People from other countries have different backgrounds, different cultures and different values, all of which contribute to and affect the way that their art comes to fruition."
~ Yu Shibagaki
"Being there helps one put his or her self in context in the theatrical world that we all share."
~ Collin Ranney
"Being at the PQ and talking to people about our U.S. student exhibit had to be the most rewarding step of the process. Coming in with an 'out of the box' idea, you never know how you will be received. Never underestimate the power of hand gestures and facial expressions, especially a smile."
~ Rachelle Beckerman
"… in-person international social networking, a rarity in these days dominated by digital friendship, is unmatched and incredibly valuable to a design student."
~ Erik T. Lawson
"For a student of set design, the city itself was a lesson in architecture and diversity. It was a truly beautiful place with a rich combination of old and new."
~ Emmy Weldon
"It expanded my view of what is possible in theatre. I was able to meet designers and artists from all over the world, talk with them about their art, and understand how they are pushing the limits in their work."
~ Lauren Mills
"If you had asked me a year and a half ago what I planned to do this summer, I couldn't have told you in a million years that I would be in Europe as a member of the USITT/USA student team for the 2011 Prague Quadrennial. It was truly an honor to have worked with so many talented individuals, and I couldn't have felt prouder to stand by our completed exhibit as people from all over the world peeked in through our graffiti-covered garage doors!"
~ Johanna Josephian
"Prague Quadrennial challenged my previous conceptions of what theatre is. Now that the PQ is over, I wish to continue my exploration of theatre's evolution and place in today's culture and society - locally and worldwide."
~ Shy Iverson
In all, PQ student activities had more than 12,000 participants and visitors and still continue with several on-line projects and discussion forums that bring more than 200 visitors per hour to its sites.
To learn more about various projects and see pictures and videos, visit: www.scenofestexchange.com.