Commissions
Commissioners Hold Discussions in Milwaukee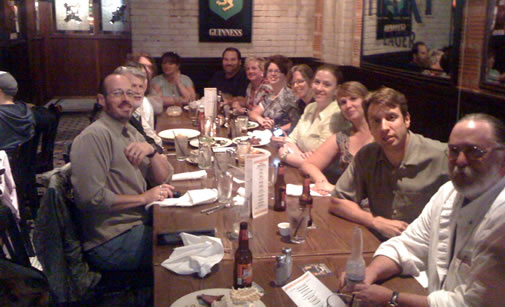 A Commissioner's Retreat was held August 13 to 15 in Milwaukee, Wisconsin – the site of the 2013 Annual Conference & Stage Expo. During this retreat, each Commissioner plus the respective vice-commissioner for programming met to discuss the issues that most concern the Commissions and their constituencies.
On Friday, festivities were started with a Milwaukee tradition – Friday Fish Fry. The evening was spent in good fellowship and a great meal. Participants started the day early on Saturday. Here is a sampling of what was discussed:
Conference Non-member Presenters
Often times, the most knowledgeable person to speak about a subject comes from outside the Institute. There is a limited budget to bring these people in, so it is important to gather information early to make arrangements and to advertise to the membership.
Conference AV requirements
Audio-visual needs for programming is becoming a bigger strain on the Conference budget. It is a balancing act between the need for equipment and the movement of that equipment from room to room. Creative solutions are being sought to ease this burden.
Conference Programming Quality
Constant efforts are made to produce the best programming in each Commission and ways to do that were discussed. It was suggested that session titles be more relevant to content so conference attendees can better judge which session to attend.
Internship Guidelines
Most may view an internship as something that had to be undertaken to bolster resumes and develop our skills. Sometimes, the work conditions could be referred to as "Dickensian." Under the leadership of the Executive Director, USITT is exploring with a select group of commissioners a set of "best practices" for internships.
The retreat ended with wonderful dinner at a local Irish pub, which those planning to attend the 2013 Annual Conference will be able to visit.
At the conclusion of the weekend, the Commissioners and the Vice-Commissioners for Programming were sincerely thanked for the valuable work and insights they provided during the retreat.