News From
Contributing Members
Daktronics: Singapore School Theatre Opens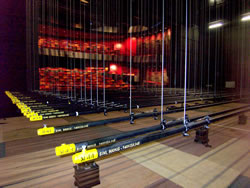 Singapore's School of the Arts (SOTA) opened its new Daktronics rigging-equipped drama theatre in July in time for the new school year. Besides the drama theatre, the school houses two other performance venues—a recital hall and a smaller studio theatre plus various studios and rehearsal rooms. SOTA integrates arts and academic curriculum and blends an inner-city school with a professional performance facility.
Phillips Group: Smith Key Manager in Realignment
Philips Strand Lighting and Philips Selecon created three new regional commercial leader positions and realigned key managers to strengthen operations in North America and around the world. Operations were realigned to focus regional offices and better serve their markets.

One of the key appointments is Julie Smith, general commercial manager, who will be responsible for sales, marketing, support services, and the daily operations from the Dallas, Texas home office. Ms. Smith also manages the global customer and technical support teams for all Philips Entertainment Group brands. She joins Graham Eales, commercial general manager for Australia/New Zealand, and Selwyn Jonker, commercial manager for the Asia-Pacific Region.
As part of the recent changes, both the sales and marketing groups -- including Pete Borchetta, product marketing manager, and Bobby Harrell, controls product manager -- now report directly to Ms. Smith. Soon, a national sales manager will be announced to manage the sales in the United States and Canada and join the Latin American sales manager reporting directly to Ms. Smith.
ETC: Introduce Compact Console, Announce Sponsorship Recipients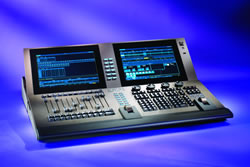 ETC's award-winning Eos lighting-control family is expanding -- but the newest console in it is not. The buzz since July (when ETC gave its end-users an exclusive first look at the CUE conference) is about the elegantly compact design of the new Gio – a high-functionality console in a smaller footprint.
For more information on Gio or to contact an ETC dealer, go to www.etcconnect.com.
Every year, ETC selects a group of theater or lighting students to receive an all-expense-paid trip to the LDI tradeshow. The students get a backstage look at ETC and its products, as well as the opportunity to network with and be mentored by industry luminaries.
The 2011 LDI Student Sponsorship winners are: Ryan Bona, California Institute of the Arts; Michael Farmer, Virginia Commonwealth University; Bryan Lussier, University of Florida-Gainesville; Mary Montgomery, University of Minnesota; Kong Qingyao, Shanghai Theatre Academy; and Ethan Steimel, Southern Methodist University.
J.R. Clancy, Inc.: Company Moves Up on Inc. 5,000 List
Stage rigging designer and manufacturer J. R. Clancy, Inc., joins the ranks of the fastest growing private companies in the United States for the second straight year, by qualifying for Inc. Magazine's Inc. 5,000 list.
J. R. Clancy rose to 3,498, up 393 spots from its 2010 ranking. The complete list is published in Inc. Magazine's September issue. Among the manufacturing companies on the list, J.R. Clancy ranks 125 out of a total of 233. The list ranks companies by percentage of overall revenue growth over a three-year period. In addition, companies that make the list are ranked by industry, metro area, revenue, and number of employees.
More information on J. R. Clancy is available at www.jrclancy.com, or by calling (800) 836-1885.
PLASA: Restructuring to Strengthen Organization
As part of its ongoing merger activities and in response to the end-of-year departure of Ruth Rossington, executive director in Europe, PLASA has restructured.
Effective October 1, Chief Executive Officer Matthew Griffiths will head up the association while temporarily overseeing the events divisions in the United Kingdom and North America. Finance Director Shane McGreevy becomes chief operating officer (COO) with responsibilities expanding beyond finance and core services into operational administration and personnel. Lori Rubinstein, current executive director in North America, becomes the new Director of membership, skills, standards, and technology, overseeing these core associations, Jackie Tien, formerly head of publishing in North America, assumes directorial responsibility for all media, sales, and marketing activities.
PLASA also announced changes to its North American Regional Board. Kacey Coffin, the North American regional board secretary, accepted a staff position as membership manager. Dinna Myers, director of sales and marketing at Musson Theatrical and dealer representative on the board, was appointed to fill the vacant secretary position. She also serves as co-chair for the Membership Advisory Group and the Marketing & Communications Advisory Group. Scott Hoyt, vice president of Heartland Scenic Studio, was appointed to fill the open dealer representative position. He serves as co-chair of the Business Resource Group and chair of the Business Peer Group Advisory Program.
In July, Charlie Davidson stepped down as manufacturer representative, and Tom Siko, Midwest Territory Manager for Lex Products Corp., was appointed to fill the remaining 18 months of the term. Mr. Silko also serves as co-chair of Generation PLASA and chaired the 2011 Nominating Committee.