News & Notices
Officer Profile: Sherry Wagner-Henry, USITT Secretary
When Sherry Wagner-Henry took over as Secretary of USITT in July, she was continuing a great tradition of service to the organization by people from Minnesota, including her predecessor, Patricia Dennis, and Jean Montgomery, who was instrumental in getting Sherry involved in the organization more than 10 years ago.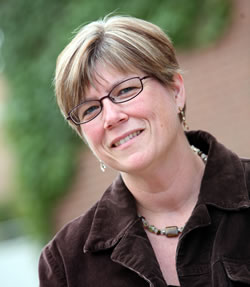 Before running for Secretary, she served on the Board of Directors and saw "the bigger picture of USITT's future. I was thinking less about the position and more about being part of the next generation of leaders."
She was first introduced to USITT by Ms. Montgomery and C. Lance Brockman, who told her, "You need to be a part of this." Sherry says that she felt welcomed, found there was something in USITT for her, and she had talents which could benefit the organization. In addition to her time on the Board, she played a major role in the local planning of the 2003 Annual Conference & Stage Expo in Minneapolis. Sherry was active in the Management Commission, and served as its first Vice-Commissioner of Arts Management, a post she held for more than seven years.
With the restructuring going on in the organization, Ms. Wagner-Henry feels her position can help USITT grow into the governance model, allowing people to be comfortable with it and finding synergistic ways to plan, grow, and move forward. She notes that blending volunteer and staff leadership will create the best organization possible.
Sherry, who is not currently working in theatre, noted she is extremely passionate that everyone should have the arts in their life. Some USITT members may not see themselves as artists, but others recognize the great creative conduit which they provide. She is director of the Arts and Cultural Leadership Program at the University of Minnesota, and she uses the tools from that position to help USITT volunteers see themselves more readily as leaders who contribute in a multitude of ways to the organization.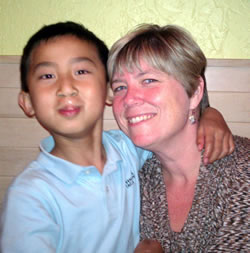 A huge advocate of adoption, Sherry and her husband Mickey Henry brought their son Zhen into their lives from China more than four years ago. Zhen was two and a half then, and considered a special needs child. He started kindergarten in a Chinese immersion school, and the household now includes a Chinese exchange student who will be part of the family for four years. "We're all learning," Sherry said. "People make families in different ways, and I speak out on how people in this country view adoption and adoption policy. The skills I learned from USITT about leadership and advocacy have helped me immensely in channeling focus in this part of my life."
While Sherry may no longer help run Minnesota's Centennial Showboat, as she did for several years, she is still very connected to the theatre and entertainment world through her arts and leadership work. Mickey is a project manager for Norcostco, and they did, after all, meet and marry on the Showboat theatre. And she will always find ways to make connections and create opportunities so that her enthusiasm, and the energy she nurtures in others, will help USITT continue to grow and prosper.