Commissions
An Unforgettable Affair With Photoshop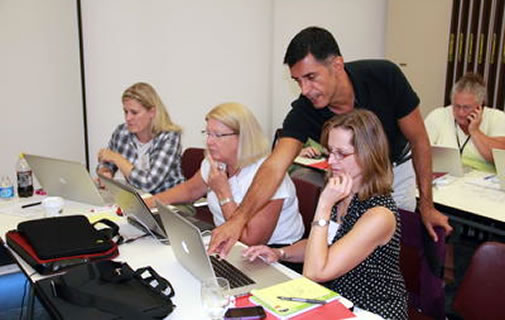 The standing ovation at the end of the third day said it all. The large group of tired but enthusiastic participants, whether total neophytes or experienced Photoshop illustrators, had all worked hard for three intense days of instruction, practice, and more practice. Though weary from focusing on computer monitors for hours each day, facing frustration and failure, and more hours finishing homework each evening, participants engaged in the work were spurred on by glimpses of the amazing range of possibilities that Photoshop offers the costume designer.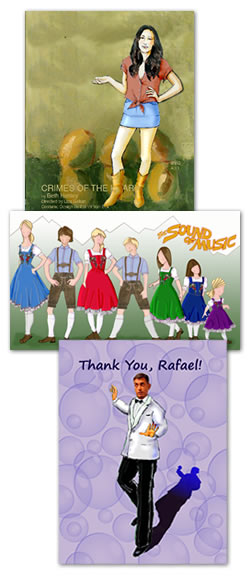 Rafael Jaen, symposium instructor, designer, and author of two books on creating and maintaining design-tech portfolios, led the group through challenge after challenge, reinforcing his instruction with self-produced, step-by-step videos. Mr. Jaen encouraged participants to jump right in and start to paint and manipulate the sketches they had brought.
At first it felt a little like being thrown into the deep end by the lifeguard, but there was method in Mr. Jaen's madness. Within the first hours, ideas were exchanged and solutions shared. That sense of communal discovery and shared excitement grew as confidence with the tools increased. Disney Imagineer and first-time USITT participant Bethann Brody was clearly impressed. "I was blown away by Rafael's commitment to be there, working with us into the wee hours of the night." He created a "judgment–free zone," and provided tools and resources to work at the individual's pace.
The host and organizer of this entire event, Dr. Laura Hanson, made sure the three days were not all work. The Costume Symposium was held on the campus of Southern Illinois University Edwardsville, and since that is just 20 minutes from St. Louis, Missouri, the group traveled there for a change of pace. The group was treated to a backstage tour of The MUNY, America's oldest and largest outdoor musical theatre, guided by Company Manager Sue Greenberg. After discovering some very fine eating in the Central West End, members toured the Cathedral Basilica of St. Louis with its magnificent mosaics.
There was a triumphant atmosphere in the classroom on the last day, when Mr. Jaen had each of person share a rendering showing what had been learned. Any misgivings that digital rendering might cause designers to lose their individuality disappeared during this final presentation. Over 30 students shared their unique and diverse work.