News & Notices
New Safety in Entertainment Website Launched
A new Entertainment Industry Safety Initiative website, now live at www.safetyinentertainment.org, is designed to raise awareness of safety in the live event production industry among companies and individuals. It provides information and resources regarding safe work practices, record keeping, accident reporting, and more. The site currently focuses on codes and regulations in the United States, but will expand to cover other countries.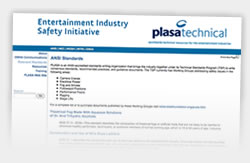 The website was created by PLASA last March at USITT after meeting with representatives from across the industry, including a variety of trade and professional associations, employers, venues, and labor unions. At the meeting, there was unanimous agreement among the attendees that there is a need and a desire for a central location where information can be easily found to help facilitate safety programs and promote the general health and safety of the industry. Website development is ongoing, and contributions and suggestions from the industry are encouraged.
The site includes news, information, and standards from the Occupational Safety and Health Administration (OSHA); references to relevant standards from ANSI (many created by PLASA's Technical Standards Program), NFPA, NEC, and NIOSH; OSHA technical resources, record keeping and reporting tools, sample forms, publications, and information about illness and injury prevention. Much of the information has been gathered and consolidated from participants in the inaugural meeting.
Eddie Raymond, Chairman of PLASA North America, said, "Employers have a responsibility to protect the lives and safety of their workers. We want to help make it easier to find information and tools that employers can use to facilitate their safety programs and compliance with OSHA."
Lori Rubinstein of PLASA noted "We had a tremendous response at our first meeting. Many of the participants have assisted in collecting these resources and making them available to the entire industry. Our hope is that this website will help make the industry a safer place to work."