Conference & Stage Expo
Anticipating A Return to Long Beach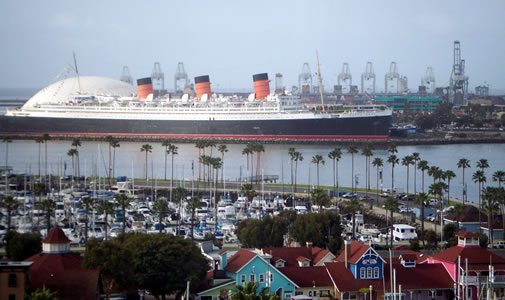 The 52nd Annual USITT Conference & Stage Expo will be held in the Long Beach Convention & Entertainment Center in Long Beach, California. Stage Expo will take place in exhibit halls A & B, a 148,000 square foot space located on the lower level of the Long Beach Convention Center (LBCC), with registration, meeting rooms, and the Grand Ballroom on the next two levels. Those who attended the '98, '01, or '04 conferences will recall the striking glass concourse and lobby which offer expansive views of the scenic harbor and downtown skyline.
The LBCC is smack dab in the middle of Long Beach's vibrant entertainment district, which continues to expand and improve. Shoreline Village, the Pike at Rainbow Harbor, the Aquarium of the Pacific, and the restaurants, clubs, and shops of Pine Avenue are all just steps from the convention center. Across Queensway Bay, the historic Queen Mary is docked, and the geodesic dome which once housed Howard Hughes' Spruce Goose is now the Long Beach Cruise Terminal, home port to two Carnival Cruise Line ships.
Located next to the LBCC, the Hyatt Regency Long Beach is the USITT conference headquarters hotel. Additional room blocks have been booked at the Westin Long Beach and the Renaissance Long Beach Hotel, both located nearby on Ocean Boulevard.
Plan now to join colleagues March 29 to 31 in Long Beach. More than 80 exhibitors have already reserved space for next year's show. For information on exhibiting at Stage Expo 2012, contact hpwillard@aol.com.
Preliminary Exhibitor List:
A.C. Lighting Inc.
A.C.T Lighting, Inc.
The University of Alabama
American Harlequin Corporation
Apollo Design Technology, Inc.
Ascension
Automatic Devices Company
Barbizon Lighting Company
Ben Nye Makeup
BMI Supply
California Institute of the Arts
Cirque du Soleil
City Theatrical, Inc.
J.R. Clancy, Inc.
Clark Transfer, Inc.
Clear-Com Communication Systems
Columbus McKinnon Corp.
coolux International
Creative Stage Lighting Co., Inc.
d&b audiotechnik
Daktronics
Disney Parks Creative Entertainment
Dragon & Phoenix Software
Eilon Engineering Weighing Systems
Electronic Theatre Controls (ETC)
ENTTEC
The ESTA Foundation/Behind the Scenes
Florida State University
Focal Press
Foy Inventerprises, Inc.
Future Light
GALA Systems, Inc.
GAMPRODUCTS, INC.
H & H Specialties Inc.
IATSE Local 1
InterAmerica Stage, Inc.
International Alliance of Theatrical Stage Employees
Irwin Seating Company
Kenmark, Inc.
Kryolan Corporation
LEE Filters

Lehigh Electric Products Co.
Lex Products Corp.
Limelight Productions, Inc.
Live Design Magazine/LDI Show
Mainstage Theatrical Supply, Inc.
MDG Fog Generators
Mehron, Inc.
Meyer Sound Laboratories, Inc.
Mongol Global Tour Company, Inc.
NETworks Presentations
Norcostco, Inc.
University of North Carolina School of the Arts
Oregon Shakespeare Festival
OSRAM SYLVANIA
Penn State University
Period Corsets
PLASA PRG
Rational Acoustics, LLC
RC4 Wireless/Soundsculpture Inc.
Robert Juliat America
Rosco Laboratories, Inc.
Rose Brand
Sapsis Rigging Entertainment Services, Inc.
SeaChanger
SECOA
Serapid, Inc.
Show Distribution Group Inc.
Smooth-On, Inc.
Stage Technologies
Stagecraft Institute of Las Vegas
StageRight Corporation
StageSpot
Steeldeck Inc.
Strong Entertainment Lighting
Syracuse Scenery & Stage Lighting Co., Inc.
Thern Stage Equipment
James Thomas Engineering
Tiffin Scenic Studios, Inc.
Union Connector Co., Inc.
United Scenic Artists Local USA 829
Wenger Corporation
ZFX, Inc.- Flying Effects