News From Joe Aldridge, USITT President
Saying Good-Bye, Saying Hello
Well, here it is spring (closer to summer, truth be told) again and very near the end of another academic year for some of us. It also marks the beginning of the second half of my term as President. I feel as though we have made great progress in securing additional, useful benefits for our members. Executive Director David Grindle has done an excellent job of working toward that mandate from me.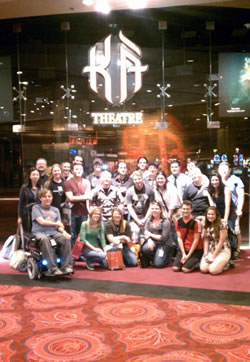 The rigging safety initiative is in full swing with applications pouring in from around the United States. We have a large number of individuals and companies signed up to perform the inspections. The committee tasked with vetting the school applications is set to begin the process and hopefully award the first round of grants in the very near future. If you know of a school in your area that could benefit from having their rigging system inspected, encourage them to submit an application.
The Elite Training Program, being sponsored by USITT and Cirque du Soleil, is set to begin next week in Las Vegas with a group of 31 students. Plans for future such weekends are well in the works. If you know of companies or groups who might be interested in hosting such an event, have them contact David Grindle in the USITT office in Syracuse.
The next Board of Directors meeting will be a web conference on June 3. The agenda and meeting information will be posted on the USITT website. Anyone interested in participating is encouraged to do so.
It is with mixed emotions that I bid farewell to three of our officers who are leaving the Board as of June 30. Kim Williamson is finishing her third term as Vice-President for Commissions. Patricia Dennis is completing her third term as Secretary. Sandy Bonds is finishing her third term as Vice-President for International Activities and, more importantly, the second PQ Exhibit under her watch.
All three ladies have served with distinction and honor and will be sorely missed as they attempt to revert back into their roles as members. I have enjoyed serving with all three as officers and board members over the past several years. You could always count on any one of them to be the first to arrive and the last to leave. They took their responsibilities as volunteers very seriously and served the membership and the Institute very well.
Knowing them as well as I do, I doubt that any one of them will decline when called upon again to serve in some volunteer capacity. My hat is off to you with much appreciation and gratitude.
Let these three volunteers serve as role models for any of you who are contemplating seeking a greater volunteer role within the Institute!