News & Notices
Symposium Honored Chinese Designer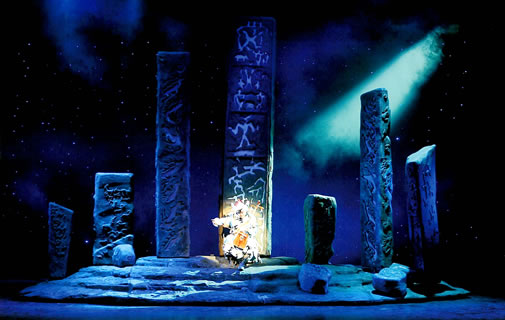 The 2nd OISTAT International Lighting Design Symposium was held in Hangzhou, China April 1 to 6. Cindy Limauro and Michael Ramsaur represented USITT. The symposium was held in conjunction with a celebration of the career of the First Class Chinese Lighting Designer Zhou Zhenping. The combination event included 20 international guests and over 250 Chinese lighting designers, directors, and stage designers. In addition to the USITT delegates, guests represented Australia, the Philippines, the Netherlands, Finland, Hong Kong, South Korea, Hungry, Sweden, Brazil, the United Kingdom, and South Africa.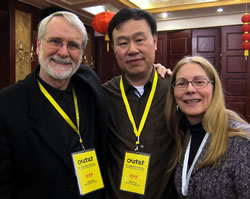 Zhou Zhenping is a First Class lighting designer - the top recognition of achievement within the theatrical lighting industry. A book of his work, The Brilliant World and The Light of the Soul: Works of Stage Lighting Designer Zhou Zhenping, was published by the China Theatre Press in 2009. Although Zhou has not worked internationally, he received the Wenhua Stage Design Award from the Ministry of Culture seven times as well as received over 30 awards for his work in China. His specialty is designing Yue Opera, the second most important opera style, next to Beijing Opera, in China. Yue opera is from the early 20th century with softer and more melodic music. He has designed regularly for the Zhejiang Yue Opera Troupe and the Hangzhou Yue Opera Theatre. The visual aspects of Yue and Zhou's work has a much more contemporary feel than the historic Beijing Opera. In addition to his work with Yue, he has designed Beijing Opera, drama, children's drama, Kunqu Opera, and many large performance events.
Presentations were given by Louis Janssen, president of OISTAT; Henk van der Geest, head of the OISTAT Lighting Design Working Group (both from The Netherlands); and Nigel Levings (from Australia). Mr. Janssen spoke of "Designing Theatres for Better Lighting," Mr. van der Geest about "Art and Lighting Design," and Mr. Levings about the "Intersection of Art and Technology." A presentation about the "Current Situation of Lighting Design in China" was given by Song Weijun, and a presentation about the "Education for Lighting Designers in China" was given by Wang Xiao. In addition to formal presentations, there were many lively panel discussions that included all international guests.
In addition to many tribute toasts to Zhou Zhenping from his Chinese colleagues, the formal presentations, and panel discussions, there was also a technology exhibit by Chinese manufacturers. International guests were able to tour the West Lake district and visit the Hangzhou Grand Theatre with its four performance spaces. The group also attended a performance of Yue Opera, an example of the lighting designs of Zhou Zhenping.
This is the second International Lighting Design Symposium organized by Mr. Ramsaur; the first was organized as a Pre Conference Workshop for the 2001 Long Beach Conference.