News & Notices
July 15 Deadline for Award Nominations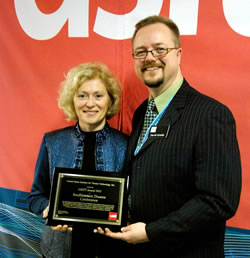 Nominations are now open for USITT's special honors and distinguished achievement awards. The initial deadline, which allows review by the Awards Committee, is July 15.
Nominations are accepted for candidates for the:
USITT Award: the highest honor given by USITT, recognizes a lifetime contribution to the performing arts community.
Joel E. Rubin Founder's Award: given to a USITT member in recognition of outstanding and continued service to the Institute.
Thomas DeGaetani Award: honoring a lifetime contribution to the performing arts in a particular region of the country, generally in the location of the Annual Conference & Stage Expo.
Honorary Lifetime Member Award: presented to a small but very distinguished group of individuals recognized for providing "a lifetime of continuous service to the Institute,"
Special Citation: recognizing outstanding achievement in any area of the performing arts by an individual or an organization.
The process for nominations starts with completion of the online forms, which can be found here.
The nomination process requires supporting documents which might include additional letters of support, resumes/CVs, articles written about nominee, or other materials enlarging on the reason the nomination is being made. A recommendation for wording on the potential awards plaque is also part of the materials to be submitted.
USITT is also accepting nominations for its Distinguished Achievement Awards which are given in specific Commission areas. Any member may nominate a person for a Distinguished Achievement Award.
Those nominations are also due July 15 and require a letter or memo of support from the appropriate Commissioner, and only one award is given in an area each year. Nominations for those awards should be made here.
Once the Awards Committee has reviewed all nominations, it makes its recommendations to the Board of Directors for approval. Two awards, the Honorary Lifetime and Founder's awards, while approved by the Board, are kept secret until they are presented at the Annual Conference.