News & Notices
ETCP Recognizes USITT Electrical Workshops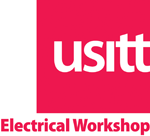 The USITT Electrical Workshop, operated by the Engineering Commission with Theatre Safety Programs, recently was approved as a Recognized Training Program by ETCP. While there are 16 Recognized Electrical Trainers, there are just three other recognized electrical training programs.
USITT Electrical Workshops are designed to give the participant an understanding of electricity and a deeper understanding of the hazards and consequences of working with electricity. These workshops are specifically designed for technicians working with electricity in the entertainment industry. They provide information that makes sense and provides explanations of the sophisticated systems and terminology that are commonly used when describing electricity within the entertainment industry.
Those involved have offered information programs as Professional Development Workshops held before the start of several recent USITT Annual Conferences, and have provided training at sites across the United States.
Mitch Hefter, Jerry Gorrell, and Ken Vannice are co-chairs. The program includes five principal presenters and five associate presenters.
Information will be available soon on both the USITT and ETCP websites on how to schedule a workshop.