Conference & Stage Expo
Long Beach 2012: Take the Blue Line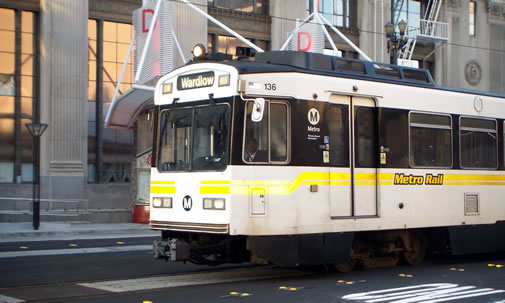 Southern California is famous for its crowded freeways, but in recent years, public transportation has improved considerably. This is especially true because of the light rail lines that connect downtown Los Angeles to Long Beach and other destinations in the L.A. area. When making plans for USITT's 2012 Conference & Stage Expo in Long Beach March 28 to 31, consider the opportunities to ride the light rail system north from Long Beach to downtown L.A. and from there to Hollywood, Little Tokyo, and Pasadena's Old Town. It is simple, easy, and involves no freeway frustrations.
The Blue Line runs north from downtown Long Beach to the Seventh Street/Metro Center Station. The second-to-last stop, the Pico/Chick Hearn Station, is close to the Los Angeles Convention Center, the Staples Center, the Nokia Theatre, and the Grammy Museum.
From the Seventh Street/Metro Center Station, it's a short walk to the Fashion Institute of Design and Merchandising. Riders also can connect to the Red Line, the Purple Line, and the Gold Line. The Red Line runs northwest to Hollywood, including the Kodak Theatre, the Walk of Fame and Grauman's Chinese Theatre. The Purple Line heads west to Koreatown. The Gold Line runs through downtown to Union Station.
On the way from the Seventh Street/Metro Center to Union Station, the Gold Line has two stops. The Pershing Square Station is close to Gallery Row, the Museum of Neon, the Los Angeles Theatre Center, and the Museum of Contemporary Art. The Civic Center Station is close to the Los Angeles Music Center, which includes the Ahmanson Theatre, the Mark Taper Forum, the Dorothy Chandler Pavilion, and the Walt Disney Concert Hall.
Union Station is the heart of L.A.'s public transportation system since it serves Amtrak trains, Metro commuter trains, and the Gold Line portion of the light rail system. Once at Union Station, take a moment to enjoy its 1939 vintage art deco interior. Travelers can also leave the station, cross Alameda Street, and stroll west to visit Olvera Street and El Pueblo Historical Monument and then north to Chinatown.
From Union Station, the Gold Line continues both northeast and southeast. Take the Gold Line northeast to Pasadena's Old Town, an excellent shopping and dining district that includes the Norton Simon Museum of Art and its small but excellent collection of Impressionist and Post-Impressionist paintings and sculptures.
The Gold Line also runs southeast through Little Tokyo, with its many restaurants and shops, the Japanese American National Museum, a branch of the Museum of Contemporary Art (MOCA at the Geffen), and the David Henry Hwang Theatre.
Although southern Californians still depend largely on freeways for getting around, the relatively new light rail lines make it easier for both locals and tourists to get to more destinations without a car, taxi, or bus, and an all-day pass costs only $6.