News From David Grindle, USITT Executive Director
Amazing Moments Still Create Wonder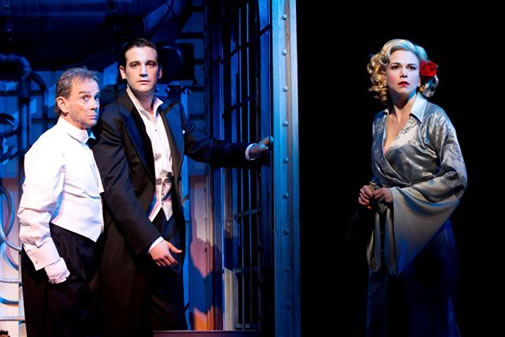 It is award season in New York for theatre. The Drama Desk, Outer Critics, and the Tonys among others are all honoring the best performers and designers on and off (and off-off) Broadway. It is an exciting time that can make or break a show or even a career.
Recently I saw the Roundabout Theatre's production of Anything Goes. It was a great show for my two sons to see as their first professional New York production. Great tunes, brilliant dancing, and cast extremely well. It has been nominated for several awards this season. But there's one "performer" who will never be nominated and yet gave a riveting performance.
During Act II, Moonface Martin and Billy Crocker are in the brig of the SS American. Moonface sings the number Be Like the Bluebird to "cheer up" Billy. There's really nothing new to the way the number was staged. The unbelievable Joel Grey does this number interacting with a "bluebird" represented by a very small irised-in follow spot. Not so unusual, except that the follow spot operator was a seasoned Broadway theatre technician that knew how to work his instrument. The bird could "fly around" and even "land" on an outstretched finger.
The audience roared with applause at the end of the number. Joel Grey turned 79 the week the show opened and he did a masterful job. My older son leaned to me during the applause and said "Did you see that?" I said, "I told you that guy was a great performer." Will said, "Yeah, but the follow spot was amazing!"
While the person operating that follow spot didn't know it, at least four members of the audience were sending some of their approval towards the booth. It reminded me that what we do as designers and technicians can really make performers look great especially when it is done to the best of our ability. Joel Grey can certainly hold his own with that or any number. But the playful interaction between this seasoned veteran, and the seasoned veteran on follow spot made a great moment magical. It was obvious from the occasional glance up towards the booth that Mr. Grey knew that for those moments, his solo was a duet and that brought me more respect for an artist I already admired.
Occasionally I hear someone say "I'm just a techie." That phrase irritates me faster than almost any other. Often my response is "Then quit. Be proud of being a technician and an artist and you will do well in this industry."
Seeing that number on Broadway gives me all the more confidence to say that to someone. The designer, director, actor, and technician all came together in that moment to create something fun adding a layer of magic to a number. That's why we are in this business.
As we come to the end of many professional and academic performing seasons, start the summer, and keep rolling on year-round live entertainment, take a moment to thank each other. The designers for their wonderful ideas, the technicians for their brilliance at execution, and the cast and remaining creatives for the collaboration to make words and stories come to life. It's what we do and we should be proud of it and aspire to "play the role" of the bluebird as well as the unnamed, un-nominated but deserving technician at the Stephen Sondheim Theatre on 43rd Street.