News & Notices
A Heartfelt "Thank You."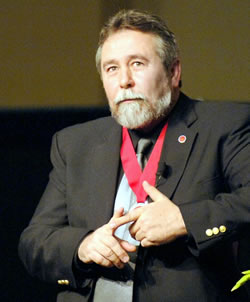 In the infinite wisdom of the Institute's "Powers That Be" I was surprised, flattered and deeply honored to receive the Joel E. Rubin Founders Award on the final evening of this year's Annual Conference held in Charlotte, North Carolina on March 12. As has been the custom for many years, the names of the recipients were kept secret until the presentation, thus providing a spontaneous reaction for all to enjoy.
In recent years this presentation was part of the Keynote address and Annual Meeting that kicks off the Annual Conference on Wednesday morning. Recipients had the distinct advantage of at least being relatively fresh and well rested prior to the ensuing crush of the non-stop days to come.
Unfortunately in my case, the honor this year was revealed on Saturday evening at the Closing Night Celebration, and I, after a solid week of working 14+ hour days on the Conference Committee was in a state of near exhaustion.
This coupled with the shock and surprise of such a great honor left me naturally befuddled and unable to even minimally express my gratitude to either the Institute or the many individuals that had given so much of themselves to help pave the way for whatever success my efforts on behalf of the Institute may have achieved. I am extremely grateful for the opportunity to rectify this shortcoming here.
First of all I must thank USITT not only for this honor, but for the many opportunities and extraordinary support that have been afforded me throughout the last 30+ years. The work on Institute projects, and through them, the betterment of the profession as a whole are, in the greater scheme of things, the most lasting and enduring contributions of my career. I will be forever indebted to the many Institute officers and Presidents who have honored me with their support and trust.
I did mention, on that fateful night in March, that no one ever accomplishes anything entirely on one's own, and this is particularly true when it comes to Institute activities. To this end I must also thank the mentors that have helped guide my path over the years. Chief among the many who have given so generously of themselves are Jerry Abbitt, Richard Devin, Sarah Nash Gates, Jay Glerum, Richard Arnold, and Dr. Joel E. Rubin just to mention a few. Of special note within this group is Dr. Robert Scales. He is not only the foremost theatre technician of my generation, but unfailingly generous and an outstanding role model as a human being. He was the first colleague I ever heard speak of the imperative of dealing with one's colleagues and co-workers in an honest and moral fashion, and as such will always number among my heroes in this life.
Likewise, I also owe eternal gratitude to the many USITT colleagues that have helped and worked so diligently and dedicatedly with me throughout the years. When I count the many USITT members of the Technical Production Commission, the Board of Directors, the Living History Project, the Archive Committee, and the Conference Committee with whom I have served and worked I'm always amazed and humbled. Again, space and numbers prohibit mentioning everyone by name, but special note must be made of such stalwarts as Dennis Dorn, Bronislaw Sammler, Mark Shanda, Stephanie Young, Jean Montgomery, Lee Asbel-Swanger, Bill Browning, Mike Murphy, and Pat Larmer.
Proudly I now number all these and dozens more as cherished friends and I want you to know that you share equally in this honor and moment of recognition. You have all incomparably enriched my life and career. Thank you and God bless you all.