The Last Word:
Noh Experience Available in U.S.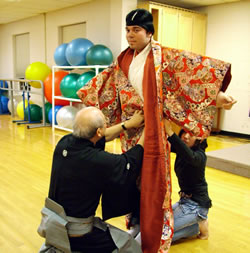 In my role as the Education Commission's liaison to the International Committee, I assist in keeping a list of international educators who are in the States and who are willing to do workshops.
In my travels to Japan this past summer, I was informed of the residence of a Noh master from the Kanse School of Noh in Kyoto. Tsuyoshi Asano is currently in residence at the University of Kentucky and is offering workshops throughout the state as his schedule allows. On October 29, Asano Sensei led a workshop at Berea College in Berea, Kentucky, hosted by the Berea College Theatre, the Berea College Asian Studies program, and the Department of Foreign Languages. In this workshop, attendees were shown the basic posture of the Noh dancer and informed how music, dance, individual performers, and the chorus of shites (leading actors) all collaborate to create a unified and cohesive experience. As a bonus, Asano Sensei dressed a young male student as a leading woman, similar to a character from the Noh play, Izutsu.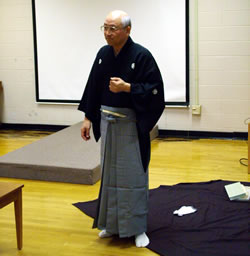 Later this year, a company of performers from the Kanse School of Noh in Kyoto will be on tour in the United States. There are a few dates available if anyone is interested in booking this company for a full Noh production. Interested parties can contact Dr. Michael Rich, professor of Japanese Language and Culture at Georgetown College in Georgetown, Kentucky, michael_rich@georgetowncollege.edu, for more information, fees, and available dates.