News & Notices
For the Price of a Cup of Joe...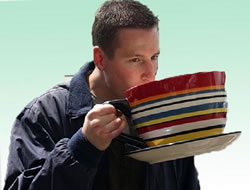 USITT Development plans are actively underway. Last month, two committees were formed and members of those committees are discussing long-range plans. In the meantime, two new programs are underway or in development and both will appear shortly.
Buy USITT a cup of joe is the name of the first initiative. The aim is to help develop a culture of giving among present and future members of USITT. Many are either not able to, or at this point willing, to write that annual check. These same people might be inclined to give in smaller amounts that might little affect their daily routines. So many of us start the day with a cup of coffee, or perhaps some other shot of caffeine. The 'cup of joe' campaign message is that, by skipping one or two days of coffee purchases and donating that money to USITT, members could have a significantly positive impact toward the benefits provided by USITT and the organization's long-range financial security.
Members of the Board were shown the campaign flyer in Las Vegas, Nevada and more than a third immediately signed up. Other Board members indicated they'd like to continue their annual giving, one of the major features of the USITT@50 campaign, as their way of supporting USITT. The goal is to gain commitments of one kind or the other from the entire Board, followed by as many USITT members as possible.
The second campaign currently in progress is to follow up with those individuals who were USITT@50 participants. The Continuing My Support campaign offers participants the options of either monthly or annual donations for periods of time ranging from one to five years. Previous participants will receive letters and this campaign will be available on both the website and through an e-mail announcement.
Each member's willingness to contribute financially demonstrates to all the commitment to making USITT part of the future by providing further opportunity for present and future generations to learn and network. Remember, if USITT has been part of your past, help make USITT part of the future.