News & Notices
In Memoriam: Irene Lockridge Corey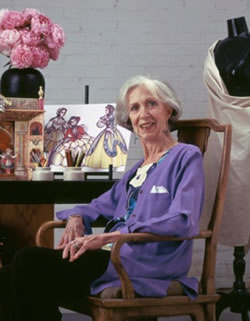 Irene Lockridge Corey died October 13 after a long battle with Parkinson's disease. She was 84. A pioneer in the field of theatrical make-up and design, she earned two degrees from Baylor University: a bachelor's degree in 1947 and a master's in 1949.
After teaching art at Baylor, she was chair of the art department at Georgetown College in Georgetown, Kentucky, which later gave her an honorary doctorate.
Together with her husband, Orlin Corey, she produced more than 50 theatrical productions including The Book of Job, which was produced off Broadway and around the world and was a summer attraction in Pine Mountain State Park in Kentucky for 20 years. A co-founder of the Everyman Players touring company, she designed productions for Centenary College's theatre department and for productions across the globe.
After moving to Dallas in the 1970s, Ms. Corey worked with Peter Wolf Design Concepts, and in 1983 she co-founded Irene Corey Design Associates with her niece, Suzanne Lockridge, where she helped create the designs for Barney, the Wiggles, and numerous other iconic characters. She wrote two seminal textbooks on make-up and theatrical design, and she taught at colleges in the United States, Europe, and South Africa.
Her numerous honors include lifetime achievement awards from the Children's Theatre Foundation of America and USITT, and she was accepted into the National Museum of Women in Art in Washington, D.C.
In 2007, when Ms. Corey was the recipient of the USITT Award, her work was the subject of a Special Exhibit. At that time, Sylvia Hillyard Pannell, then-President noted "The USITT Award, the highest honor given by USITT, recognizing a lifetime contribution to the performing arts community was presented to Irene Corey for her peerless theatrical costume and make-up designs and her work as a fine artist. She astonished the theatrical design world with her creativity which history now shows to have established artistic trends that are the antecedent of design styles that strike us as startlingly original today."
Joy S. Emery, a USITT Fellow, recalled "One of Irene's favorite books was The Courage to Create by Rollo May. It always struck me as the central mantra of her life. Her creative spirit was expressed in her exciting costume designs, expressive make-up creations, and her luminous water colors. Her garden was a delightful oasis of colors, scents, and textures. She was always challenging herself and learning. Irene has shared with and inspired students and practitioners with her books, The Mask of Reality, and The Face is a Canvas. Her giving and creative spirit will endure."
Preceded in death by her second husband, John Barr, she is survived by one niece, one nephew, one great-nephew, one great-great niece, her first husband, and numerous friends and former students.
We know that she will live on in her art, her creations, and the countless students she influenced throughout the years.
A memorial service was scheduled for Sunday, November 28 at 2 p.m.. at the First Presbyterian Church, 408 Park Ave. Dallas, Texas. A reception was scheduled to follow at the home of Marilee Polakoff and Susan Cox also in Dallas, Texas.
Memorial donations in her honor may be made to the Irene Corey Memorial Fund at Arizona State University, for the digitization of Ms. Corey's personal papers, which include her lectures and theatrical design work. Gifts may be sent to the ASU Foundation, P.O. Box 2260, Tempe, AZ 85280-2260 or may be made online at www.asufoundation.org/corey.